EVALUATION OF MAGIFRESH MOUTHWASH MANALAGI APPLE PEEL EXTRACT
Keywords:
MAGIfresh, Mouthwash, Manalagi Apple
Abstract
Regular dental care and oral hygiene are important steps in maintaining overall body health. Plaque is one of the dental problems that can develop into diseases that are detrimental to oral health. One way to remove plaque is to use preventive dental products. Previous research shows MAGIfresh, which is a 25% manalagi apple peel extract mouthwash, shows good potential as a mouthwash for dental health. Therefore, it is important to conduct further research to test the effectiveness of the product. The purpose of this study was to determine the difference in effectiveness of MAGIfresh mouthwash, mineral water, and mouthwash products on the market against plaque deposits. This type of research is a quasi-experiment. The sample amounted to 62 students majoring in dental health at Poltekkes Kemenkes Jakarta I. The sample was divided into 3 groups, namely A (MAGIfresh mouthwash), B (mineral water mouthwash), and C (market mouthwash). After gargling, the samples were examined for PHP index. Statistical analysis using one way ANOVA. The results showed a PHP index in groups A = 1.51, B = 1.94, and C = 2.37. The results of the analysis of differences between the 3 groups showed a ?-value of 0.034 <0.05. The conclusion of the study is that there is a significant difference in the average PHP Index between the 3 groups, gargling MAGIfresh mouthwash has the same effectiveness as gargling mineral water, and gargling MAGIfresh mouthwash is more effective when compared to gargling one of the mouthwash products from the market.
Downloads
Download data is not yet available.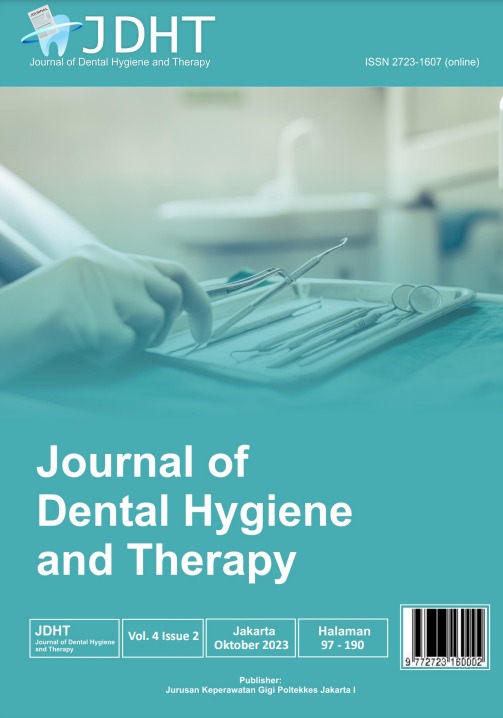 How to Cite
Emini, E., Erwin, E., Widiyastuti, R. ., & Yusmaniar, Y. (2023). EVALUATION OF MAGIFRESH MOUTHWASH MANALAGI APPLE PEEL EXTRACT. JDHT Journal of Dental Hygiene and Therapy, 4(2), 173–177. https://doi.org/10.36082/jdht.v4i2.1379
Copyright & Licensing
Copyright (c) 2023 Erwin Erwin
This work is licensed under a Creative Commons Attribution-ShareAlike 4.0 International License.