SENAM WAJAH TERHADAP KECEPATAN ALIRAN SALIVA PADA LANSIA SEBAGAI UPAYA PENCEGAHAN XEROSTOMIA
FACIAL EXERCISE ON THE FLOW VELOCITY OF SALIVA IN THE ELDERLY AS XEROSTOMIA PREVENTION EFFORT
Keywords:
Aliran Saliva, Senam Wajah, Lansia
Abstract
Kesehatan gigi dan mulut dipengaruhi oleh saliva yang berfungsi menetralkan asam pada plak gigi, sebagai lubrikasi dalam proses pengunyahan makanan, menjaga integritas gigi, sebagai pelumas dan cairan pembersih yang penting bagi kesehatan rongga mulut. Saliva akan bekerja maksimal ketika kecepatan aliran saliva meningkat. Gangguan aliran saliva sering terjadi pada lansia. Tujuan penelitian ini adalah mengetahui pengaruh senam wajah terhadap kecepatan aliran saliva pada lansia. Penelitian dilakukan pada 30 orang lanjut usia kelompok senam jantung sehat RSPAD Gatot Soebroto Jakarta. Sampel saliva diambil sebelum dan sesudah senam wajah. Subyek diarahkan untuk menyikat gigi, minum air, dan berpuasa selama satu jam sebelum pengambilan saliva. Data penelitian dianalisis dengan menggunakan uji Wilcoxon. Kesimpulan: didapatkan nilai p-value 0.006 menunjukan bahwa  terdapat perbedaan kecepatan aliran saliva sebelum dan sesudah senam wajah pada lansia.
Downloads
Download data is not yet available.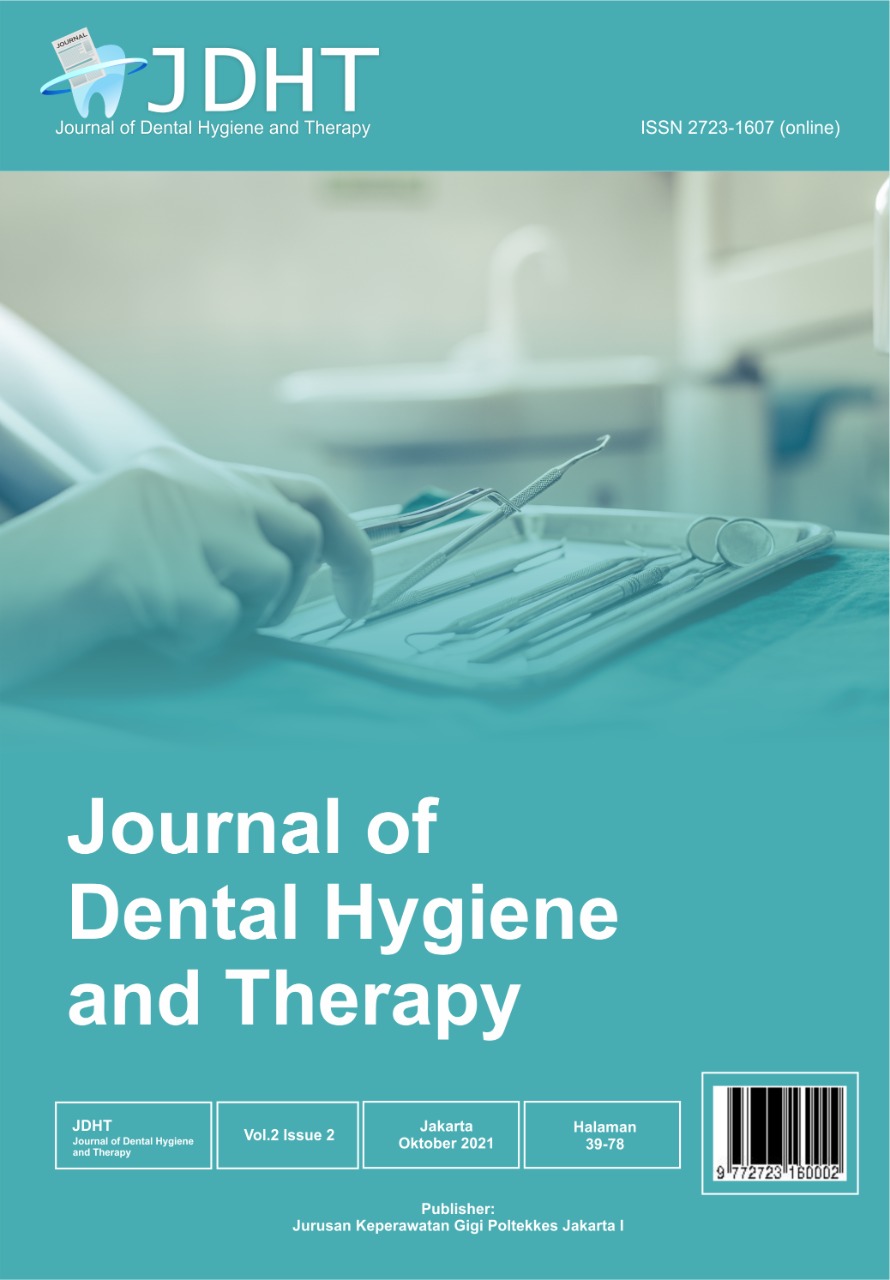 How to Cite
Sulistiani, S. ., Wahyudi, S. ., & Nurwanti, W. (2021). SENAM WAJAH TERHADAP KECEPATAN ALIRAN SALIVA PADA LANSIA SEBAGAI UPAYA PENCEGAHAN XEROSTOMIA: FACIAL EXERCISE ON THE FLOW VELOCITY OF SALIVA IN THE ELDERLY AS XEROSTOMIA PREVENTION EFFORT . JDHT Journal of Dental Hygiene and Therapy, 2(2), 58–61. https://doi.org/10.36082/jdht.v2i2.337
Copyright & Licensing
Copyright (c) 2021 Silvia Sulistiani, Sri Wahyudi, Widi Nurwanti
This work is licensed under a Creative Commons Attribution-ShareAlike 4.0 International License.