DETERMINAN STATUS GIZI PADA STATUS KESEHATAN GIGI ANAK USIA SEKOLAH: SYSTEMATIC LITERATURE REVIEW
DETERMINANTS OF NUTRITIONAL STATUS IN THE DENTAL HEALTH STATUS OF SCHOOL AGE CHILDREN: SYSTEMATIC LITERATURE REVIEW
Keywords:
Status gizi, Kesehatan gigi, Anak-anak
Abstract
Latar Belakang: Kesehatan gigi dan mulut berperan dalam menentukan status kesehatan seseorang. Masalah dalam penelitian ini adalah tingginya angka karies yang terjadi pada anak usia sekolah. Karies gigi yang berlanjut dapat menimbulkan gangguan asupan makanan sehingga menyebabkan terganggunya pertumbuhan dan perkembangan anak. Pertumbuhan dan perkembangan yang terganggu dapat mempengaruhi status gizi seorang anak. Status gizi merupakan salah satu penyebab yang mempengaruhi kesehatan gigi pada anak. Tujuan: untuk menjelaskan determinan status gizi pada status kesehatan gigi anak usia sekolah. Metode: Jenis penelitian ini yaitu systematic literature review. Pencarian jurnal dilakukan dari tahun 2016-2020 pada database Google Schooler, PubMed, dan DOAJ dalam bahasa indonesia dan bahasa inggris. Stategi pencarian jurnal menggunakan PICOS dengan keyword nutrional status AND dental health AND children. Jurnal dipilih berdasarkan sesuai dengan kriteria inklusi dan eksklusi yang akan di review. Hasil: Hasil pencarian melalui 3 database didapatkan 12 artikel yang berasal dari negara Indonesia, Turki, Bosnia dan Herzegovina, Brazil, USA, dan Mexico city, Iran, India, dan Nepal. Didapatkan tahun publikasi yang beragam yaitu dari tahun 2016 sampai tahun 2020. Penyebab dari status gizi pada status kesehatan gigi anak usia sekolah terdiri dari penyebab langsung yaitu asupan makan dan penyakit infeksi; penyebab tidak langsung yaitu kecukupan pangan, pola asuh, sanitasi, dan pelayanan kesehatan; dan penyebab mendasar yaitu krisi sosial ekonomi, dan krisis politik. Kesimpulan: Pada 12 artikel didapatkan rata-rata anak yang memiiki masalah pada status gizinya dapat mempengaruhi kesehatan giginya.
Downloads
Download data is not yet available.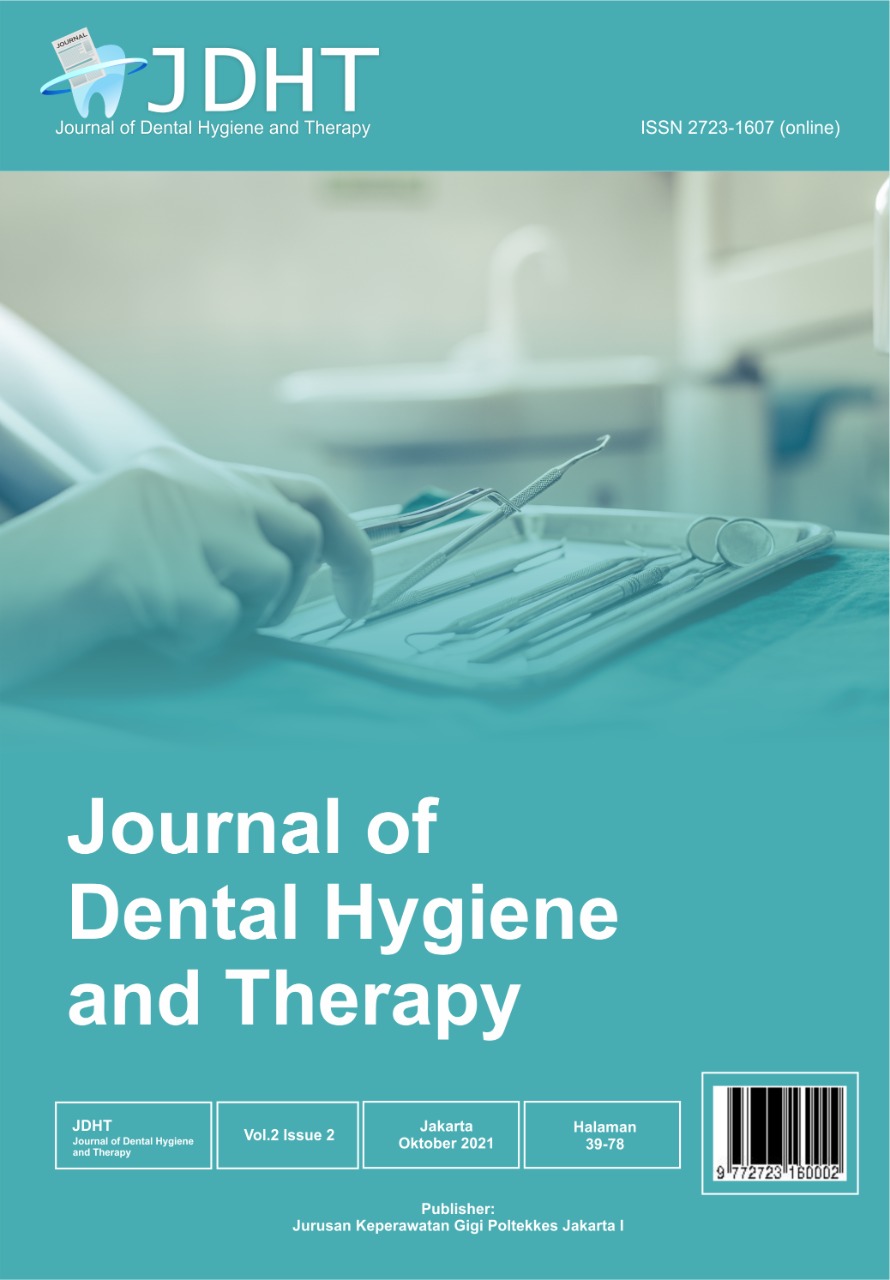 How to Cite
Maryam, H., Isnanto, I., & Mahirawatie, I. C. . (2021). DETERMINAN STATUS GIZI PADA STATUS KESEHATAN GIGI ANAK USIA SEKOLAH: SYSTEMATIC LITERATURE REVIEW: DETERMINANTS OF NUTRITIONAL STATUS IN THE DENTAL HEALTH STATUS OF SCHOOL AGE CHILDREN: SYSTEMATIC LITERATURE REVIEW. JDHT Journal of Dental Hygiene and Therapy, 2(2), 62–71. https://doi.org/10.36082/jdht.v2i2.336
Copyright & Licensing
Copyright (c) 2021 Hafidyawati Maryam, Isnanto Isnanto, Ida Chairanna Mahirawatie
This work is licensed under a Creative Commons Attribution-ShareAlike 4.0 International License.