JUMLAH PASIEN DAN KELENGKAPAN PERALATAN TERHADAP RISIKO GANGGUAN MUSKULOSKELETAL PADA PRAKTISI GIGI DI PUSKESMAS
RELATION OF PATIENTS AND COMPLETENESS EQUIPMENT FOR INTERFERENCE RISK MUSCULOSCELETAL IN DENTAL PRACTITIONERS COMMUNITY HEALTH CENTERS
Keywords:
Pasien gigi, Kelengkapan peralatan, Gangguan muskuloskeletal, Puskesmas
Abstract
Musculoskeletal disorders are a group of symptoms related to muscle tissue, tendons, ligaments, cartilages, nervous system, bone structure and blood vessels that are influenced by biomechanical factors such as duration, frequency and infrastructure for performing the action. Data on dental practitioners who take preventive measures against musculoskeletal disorders is 64.3%, in the form of correct work position or posture, 14.1%, the use of adequate ergonomic equipment 3.1%, taking 1.8% leave from work and doing a combination of two or more of these precautions 41%. Objective: to see an overview of the number of patients, the completeness of equipment and the risk of musculoskeletal disorders in dental practitioners and to find the relationship between the three. Method: cross sectional with a sampling of 20 people consisting of 13 dentists and 7 dental therapists. The assessment of the number of patients used primary and secondary data from the puskesmas annual report, assessment of equipment completeness using a check list and assessment of musculoskeletal disorders using a Nordic Body Map questionnaire. Results: the mean value of the number of patients served by dental practitioners at the health center was 13.3 with low criteria, 74.42% of the criteria were incomplete and 32.7 with low criteria The results of the Pearson Correlation statistical test Sig. (2-tailed) above the critical value ? = 0.005. Conclusion: There is no relationship between the number of patients and the completeness of equipment with the risk of musculoskeletal disorders in Dental Practitioners at Community Health Centers Sukabumi City.
Downloads
Download data is not yet available.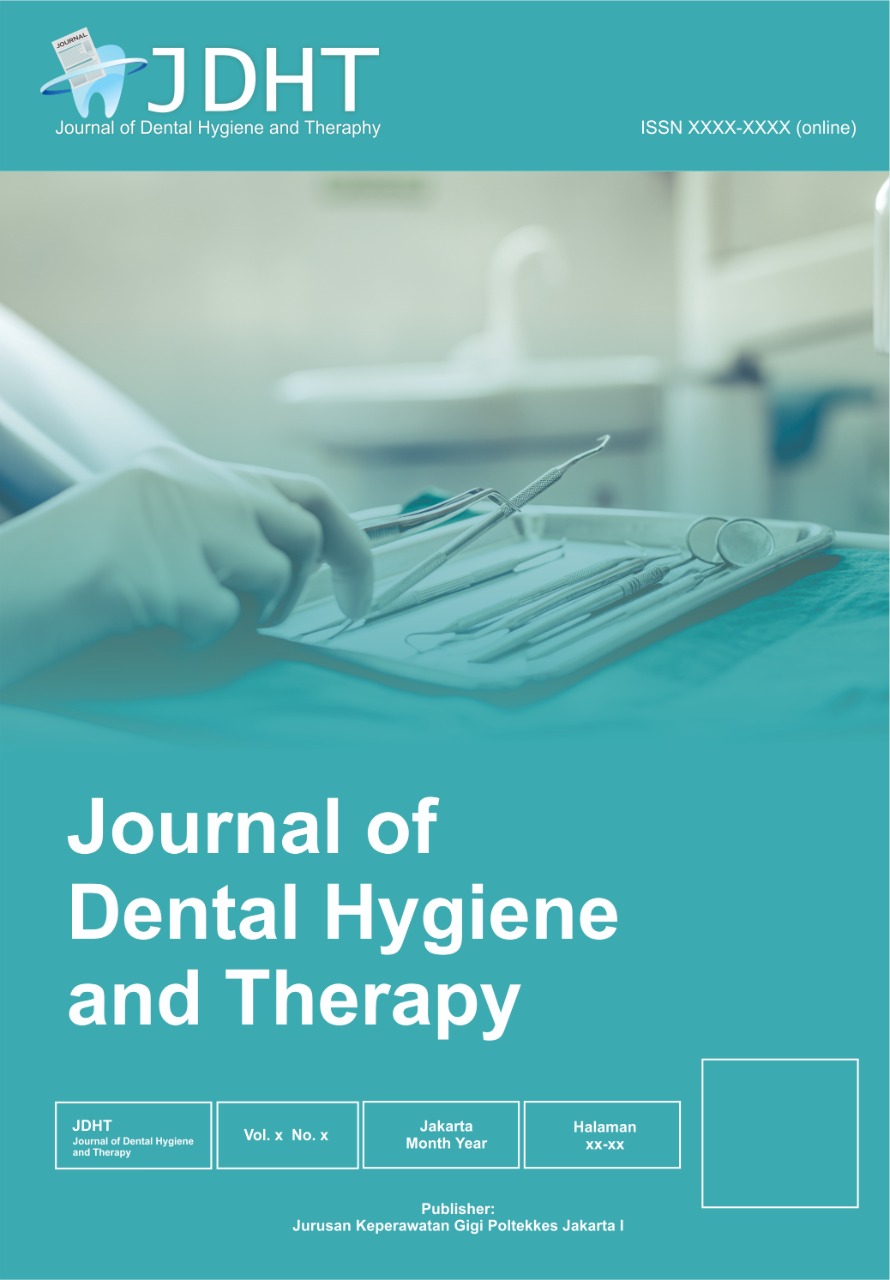 How to Cite
Wulandari, D., Kamelia, E., & Miko, H. (2021). JUMLAH PASIEN DAN KELENGKAPAN PERALATAN TERHADAP RISIKO GANGGUAN MUSKULOSKELETAL PADA PRAKTISI GIGI DI PUSKESMAS: RELATION OF PATIENTS AND COMPLETENESS EQUIPMENT FOR INTERFERENCE RISK MUSCULOSCELETAL IN DENTAL PRACTITIONERS COMMUNITY HEALTH CENTERS. JDHT Journal of Dental Hygiene and Therapy, 2(1), 20–26. https://doi.org/10.36082/jdht.v2i1.197