CADRE ASSISTANCE IN PROMOTIVE AND PREVENTIVE DENTAL HEALTH PROGRAMS IN TRADITIONAL COMMUNITIES OF KAMPUNG NAGA
Keywords:
Cadre, promotive, preventive, dental health, traditional villages
Abstract
Kampung Naga is one of the traditional villages in Neglasari Village, Salawu District, Tasikmalaya Regency. The Kampung Naga Traditional Community is known for its strength in maintaining and preserving the traditions of its ancestral heritage. As a traditional village, the lives of its people are inseparable from traditional rules, including regarding health. Self-cleaning activities such as bathing are carried out in the "pacilingan" (MCK) which is above the fish pond. Interestingly, people here do not use cosmetics such as soap, shampoo and toothpaste when cleaning themselves. The ingredients used for bathing and shampooing are "taneuh porang" (clay), crushed orang-aring leaves or aloe vera and some also use lime. Meanwhile, to brush your teeth, use "eurih jeung lebu" (fiber from weed leaves and rubbing ash). The aim of the research is to determine the effect of cadre training in promotive and preventive dental health programs for the Naga village indigenous community in Tasikmalaya Regency. The qualitative research method is a quasi-experimental one group pre and post test design method using an observational approach and implementation of the PAR model which is supported by a literature review. The research results show that training local cadres is very effective in the promotive efforts carried out by cadres in indigenous communities. The results show that the level of pre-post knowledge of indigenous communities has increased to good with a result of p=0.000, and for the preventive results of OHIS measurements, the majority of indigenous community members in Dental hygiene maintenance has implemented what they got from the promotive cadres so that the pre-post OHIS results are good, p = 0.000, there is a significant change in the promotive and preventive efforts above, according to statistics, it is very significant. Conclusion: that there is an influence of cadre training in the promotional and preventive dental health program efforts of the Naga village indigenous community in maintaining the cleanliness of the teeth and mouth of local residents.
Downloads
Download data is not yet available.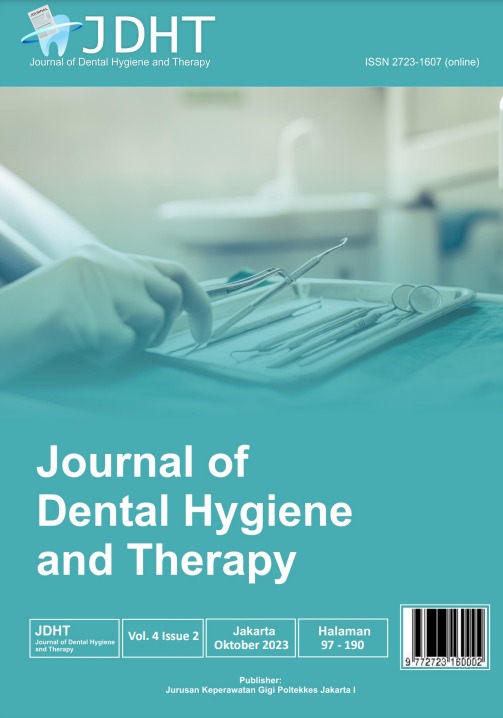 How to Cite
Suharja, E. S., & Kusmana, A. (2023). CADRE ASSISTANCE IN PROMOTIVE AND PREVENTIVE DENTAL HEALTH PROGRAMS IN TRADITIONAL COMMUNITIES OF KAMPUNG NAGA. JDHT Journal of Dental Hygiene and Therapy, 4(2), 186–190. https://doi.org/10.36082/jdht.v4i2.1424
Copyright & Licensing
Copyright (c) 2023 Eliati Sri Suharja, Aan Kusmana
This work is licensed under a Creative Commons Attribution-ShareAlike 4.0 International License.