EFFECT OF SHELL PASTE ON CARIES INHIBITION
Keywords:
Shell paste, saliva, Dental Caries
Abstract
The golden snail is a freshwater mollusk that is an important pest of rice cultivation in Asia. The gold snail shell is almost entirely made of calcium carbonate, which has great potential to assist the manufacture of hydroxyapatite. The content of chitosan in golden snail shells contains an amine group as an antimicrobial substance so that it can inhibit bacterial growth. Calcium carbonate has low solubility in air, which makes it able to neutralize lactic acid and maintain pH at a certain level automatically. Previous research experimentally revealed that the golden snail shell paste (Pomacea canaliculata L.) was able to increase calcium in saliva so that at a concentration of 5% it was able to harden enamel. In this research proposal, the researcher wants to know the effect of shell paste on caries inhibition by looking at the inhibitory power of the paste (streptococcus) and the increase in salivary pH after applying the paste, with the formulation of whether gold snail shell paste is effective in inhibiting the caries process? This research is true experimental research (laboratory) with a post-test control group design, with a total sample of 15 media, divided into 3 treatment groups. It was carried out in the bacteriology laboratory of TLM Poltekkes Palembang. Data analysis used two-way Anova test. The results of this study stated that 5% gold snail shell paste was able to inhibit the caries process by neutralizing salivary pH with calcium carbonate and inhibiting bacteria by chitosan.
Downloads
Download data is not yet available.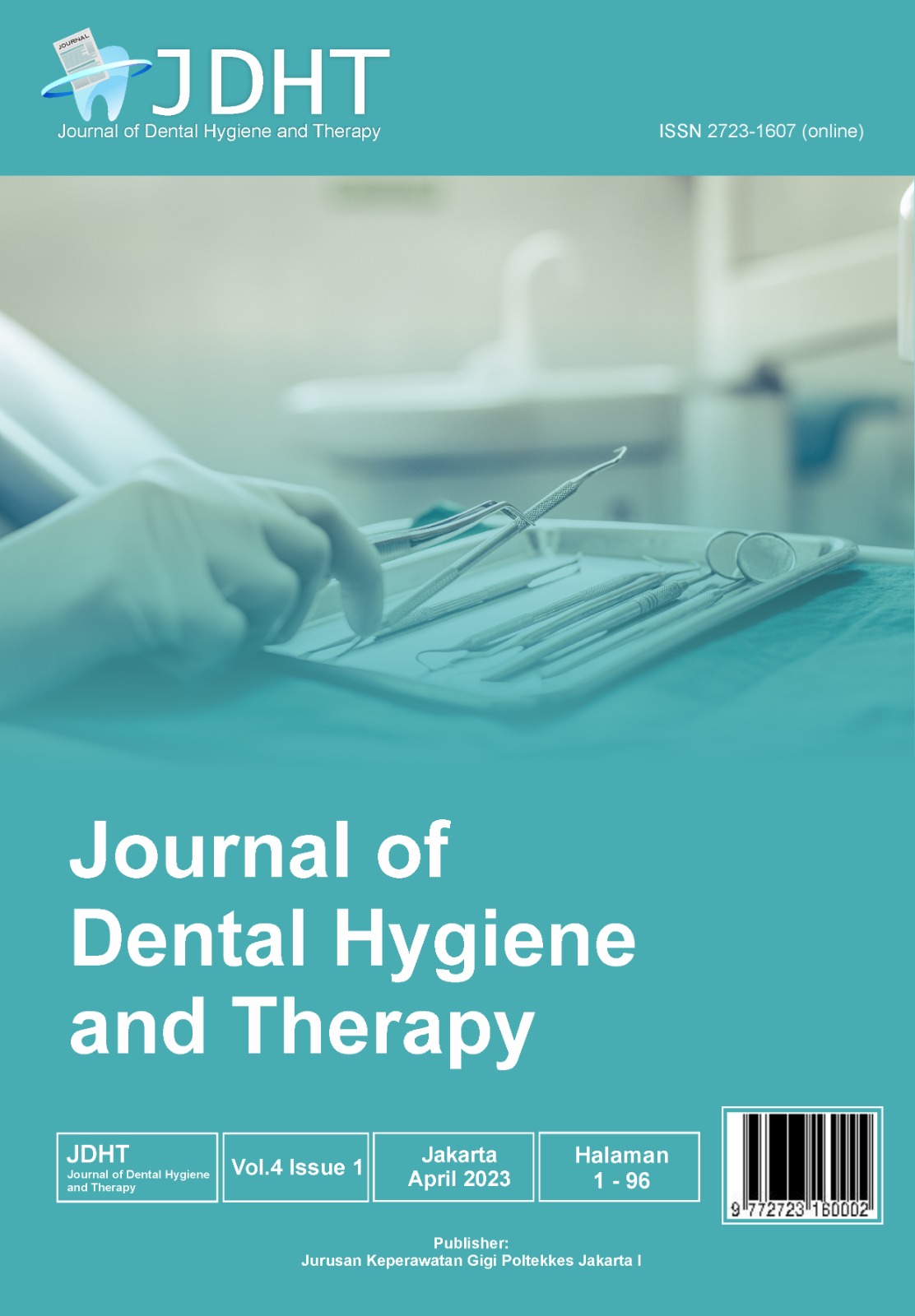 How to Cite
Marlindayanti, M., Widodo, Y. ., & Handayani, H. (2023). EFFECT OF SHELL PASTE ON CARIES INHIBITION. JDHT Journal of Dental Hygiene and Therapy, 4(1), 32–38. https://doi.org/10.36082/jdht.v4i1.970
Copyright & Licensing
Copyright (c) 2023 Marlindayanti
This work is licensed under a Creative Commons Attribution-ShareAlike 4.0 International License.