The SOCIO-CULTURAL FACTORS THAT AFFECT THE ORAL HEALTH OF ADOLESCENT (SYSTEMATIC REVIEW)
Keywords:
social, cultural, dental health, adolescent
Abstract
Background: Oral health is a key indicator of overall health, well-being and quality of life. It covers a wide range of diseases and conditions that include dental caries, periodontal disease, tooth loss, oral cancer, oro-dental trauma, normal and birth defects such as cleft lip and palate. Social culture that affects dental and oral health include socio-economic, lifestyle, gender and culture. Methods: This study uses a systematic review method on research articles that examine socio-cultural factors that affect dental and oral health with a quantitative approach. Search articles through Google Scholar and PubMed Journal, with keywords "social" "culture" "dental health" "teenagers". Articles published from the last 10 years from 2012 to 2022 in Indonesian and English. Results: Search results for articles found (n = 6,745). From the search results after filtering based on inclusion and exclusion criteria, 13 articles were found that matched the influence of socio-economic factors, lifestyle, gender and culture. Conclusion: This study explains the influence of socio-cultural factors including socio-economic factors, lifestyle, gender and culture.
Downloads
Download data is not yet available.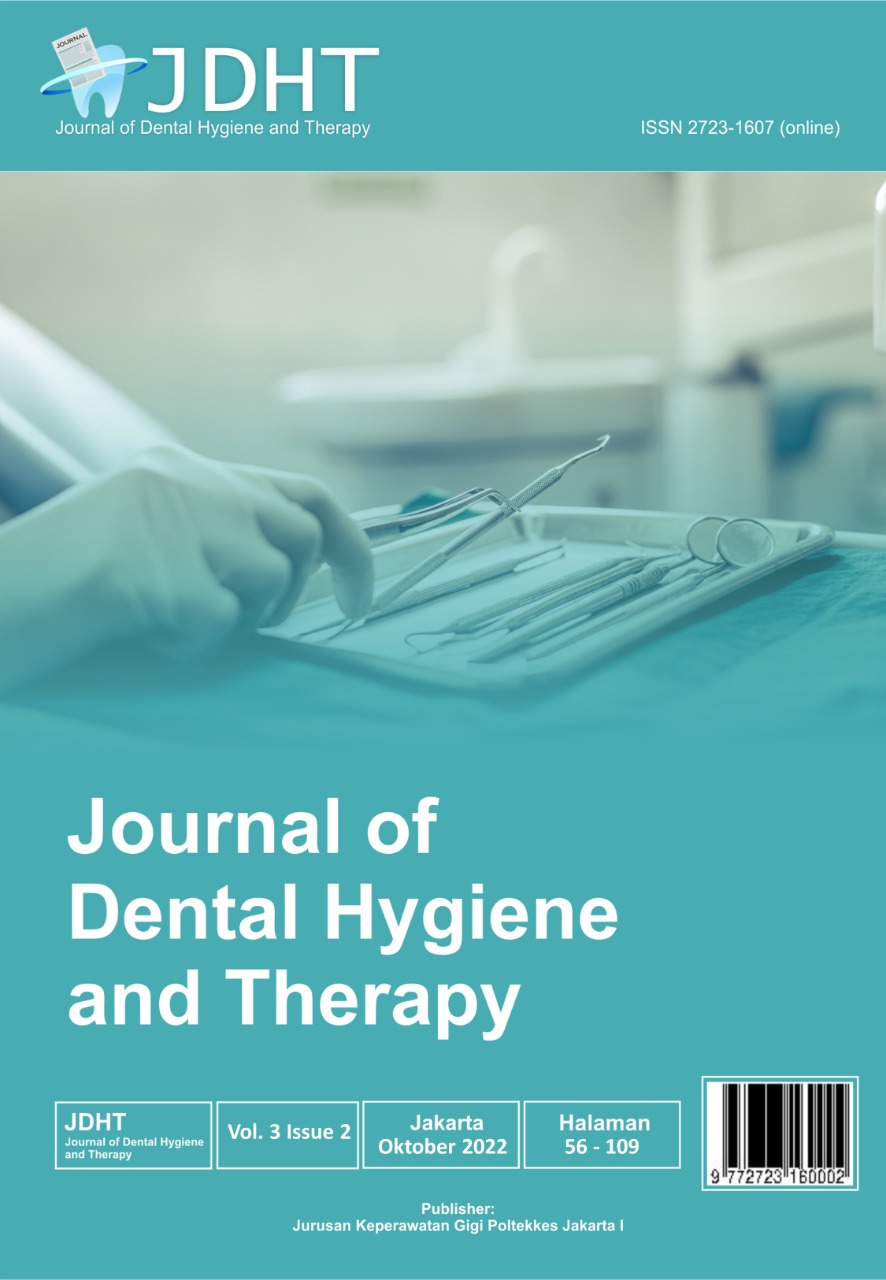 How to Cite
Ramdani, F. F. ., & Karjoso, T. K. . (2022). The SOCIO-CULTURAL FACTORS THAT AFFECT THE ORAL HEALTH OF ADOLESCENT (SYSTEMATIC REVIEW). JDHT Journal of Dental Hygiene and Therapy, 3(2), 61–67. https://doi.org/10.36082/jdht.v3i2.672