STATUS EKONOMI, PENDIDIKAN, SITUASIONAL DAN PSIKIS TERHADAP MINAT MENGGUNAKAN GIGI TIRUAN SEBAGIAN LEPASAN
ECONOMIC STATUS, EDUCATION, SITUATIONAL AND PSYCHICAL WITH INTERESTS USING REMOVABLE PARTIAL DENTURE
Keywords:
Gigi tiruan, Pendidikan, Situasional, Psikis, Minat
Abstract
Latar Belakang: Pemahaman tentang pentingnya penggunaan gigi tiruan yang masih rendah, menjadi salah satu penyebab individu yang mengalami kehilangan gigi tidak menggunakan gigi tiruan. Tujuan: Diketahuinya pengaruh status ekonomi, pendidikan, situasional dan psikis terhadap minat menggunakan gigi tiruan sebagian lepasan. Metode: Jenis penelitian observasional analitik dengan desain cross sectional. Sampel penelitian berjumlah 30 responden. Teknik pengambilan sampel accidental sampling. Analisis data melalui uji Kendall's Tau. Hasil: Status ekonomi rata-rata kategori sedang 43,3%, pendidikan rata-rata kategori menengah 50%, situasional rata-rata kategori sedang 53,3%, psikis kategori sedang 66,6% dan minat kategori sedang 60%. Uji Kendall Tau didapat nilai signifikansi < 0,05 artinya ada pengaruh yang signifikan antar variabel terhadap minat penggunaan gigi tiruan. Kesimpulan: Status ekonomi, pendidikan, situasional dan psikis mempengaruhi minat menggunakan gigi tiruan sebagian lepasan.
Downloads
Download data is not yet available.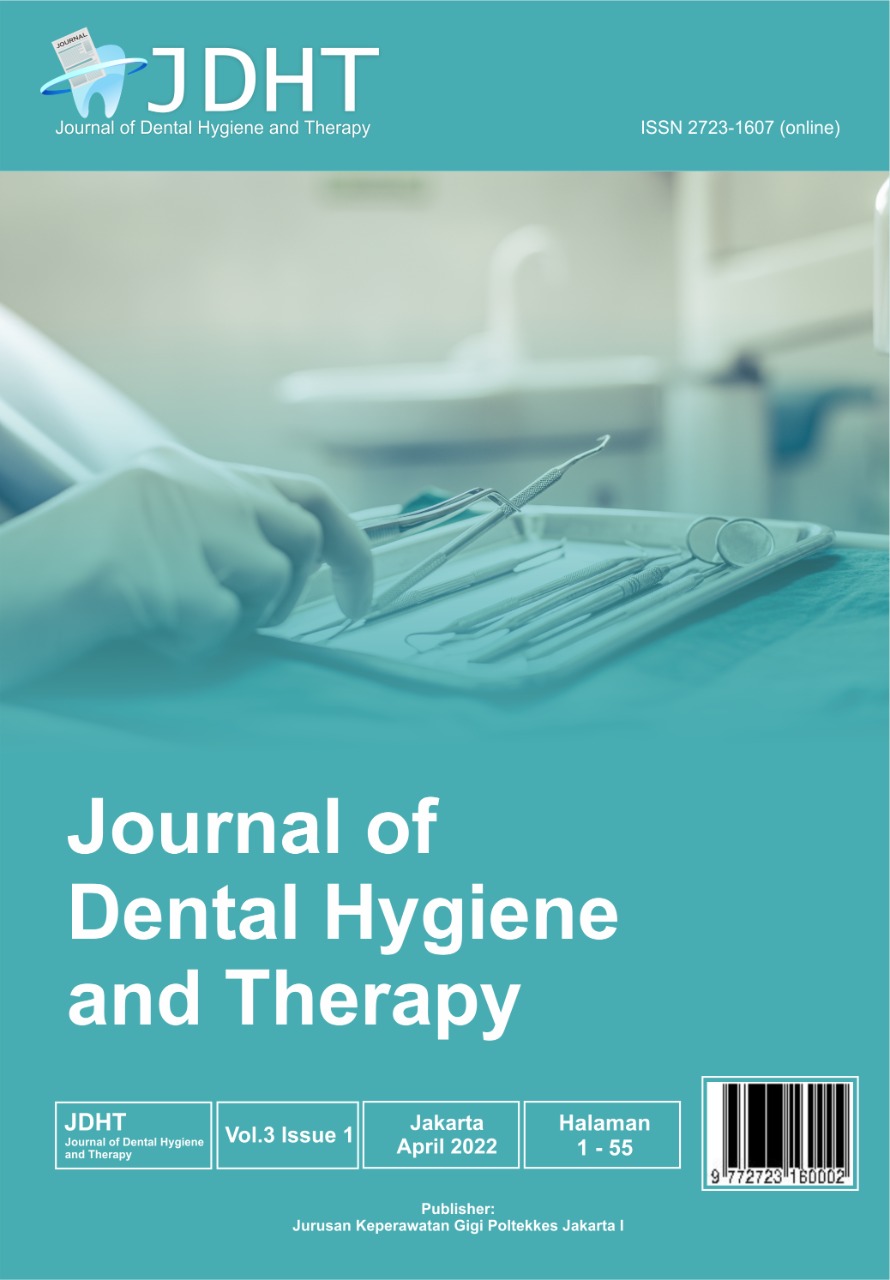 How to Cite
Ersita, D. ., & Eldarita, E. (2022). STATUS EKONOMI, PENDIDIKAN, SITUASIONAL DAN PSIKIS TERHADAP MINAT MENGGUNAKAN GIGI TIRUAN SEBAGIAN LEPASAN: ECONOMIC STATUS, EDUCATION, SITUATIONAL AND PSYCHICAL WITH INTERESTS USING REMOVABLE PARTIAL DENTURE. JDHT Journal of Dental Hygiene and Therapy, 3(1), 16–20. https://doi.org/10.36082/jdht.v3i1.500
Copyright & Licensing
Copyright (c) 2022 Deka Ersita, Eldarita Eldarita
This work is licensed under a Creative Commons Attribution-ShareAlike 4.0 International License.