UTILIZATION OF TRADITIONAL MATERIALS (RED GINGER) TO REDUCE PLAQUE INDEX
Keywords:
Traditional Materials, Red Ginger, Index Plaque
Abstract
Background: Dental and oral health is the healthy state of the hard and soft tissues of the teeth and the elements associated with them in the oral cavity. Most dental and oral health problems are caused by the presence of plaque. Plaque is a soft deposit that sticks to the tooth surface. The prevalence rate of dental plaque in Indonesia is relatively high, reaching 70-80%. There are several methods used in plaque control, one of which is chemical (gargling). Gargling using an antibacterial liquid can kill bacteria attached to the surface of the teeth. The Indonesian government supports the use of traditional mouthwashes as an alternative, one of which is the red ginger plant. Red ginger contains very high levels of essential oils and oleoresin making it suitable for pharmaceutical ingredients. Purpose: the aim of this study was to analyze the traditional ingredient (red ginger) to reduce plaque index. Methods: The type of research used in this study was experimental. With a one group pretest-posttest design. The analysis results of the Wilcoxon Signed Rank Test showed that there was a significant difference between plaque before and after rinsing red ginger boiled water 0.001 (Sig. <0.05). Shows that the average of 60 respondents before rinsing red ginger boiled water was 2,505, while after rinsing red ginger boiled water was 1,525, there was a decrease with the difference before and after 980. Conclusion: there was an effect of gargling red ginger boiled water on reducing plaque index.
Downloads
Download data is not yet available.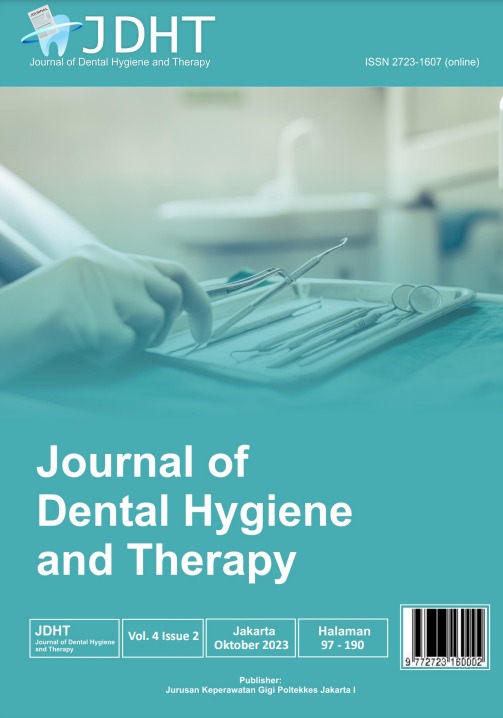 How to Cite
Andriyani, D. ., & Prasetiowati, L. E. . (2023). UTILIZATION OF TRADITIONAL MATERIALS (RED GINGER) TO REDUCE PLAQUE INDEX . JDHT Journal of Dental Hygiene and Therapy, 4(2), 103–107. https://doi.org/10.36082/jdht.v4i2.1261
Copyright & Licensing
Copyright (c) 2023 Desi Andriyani, Lies Elina Prasetiowati
This work is licensed under a Creative Commons Attribution-ShareAlike 4.0 International License.