Using Mobile Health Based Expert System In Monitoring Risk Signs Of Pregnancy: Literature Review
Penggunaan Mobile Health (mHealth) Berbasis Sistem Pakar Pada Pemantauan Tanda Bahaya Kehamilan: Literature Review
Keywords:
Mobile health dalam kesehatan, sistem pakar, tanda bahaya kehamilan
Abstract
 The maternal mortality rate is still quite high. Pregnant women need to understand the danger signs of pregnancy toprevent emergencies. Health workers can also carry out early detection of danger signs of pregnancy in mothers.Currently, pregnancy monitoring is being carried out by mothers independently with an expert-based mobile healthapplication. Expert-based mHealth is one of the efforts that can be made to monitor pregnancy. The aimed of thisliterature study is to determine the effectiveness of using expert system-based mHealth in pregnancy monitoring. Method: writing in this study used the PRISMA method to describe the application of expert system-based mHealth in pregnancy monitoring. Scientific articles were collected from an online database consisting of ClinikalKey Nursing, Elsevier,Scholar, and Scopus from 2017 to 2022. Results: the use of an expert system-based mHealth application has proveneffective in improving pregnancy monitoring, especially in monitoring pregnancy danger signs so that it can be carriedout early warning of high risk pregnancy. In conclusion, this application is useful for pregnant women and health workers.This application is needed by mothers and health workers in monitoring their pregnancy effectively, easily and costeffectively. Recommendation: it needs to be integrated with health services, both puskesmas and hospitals.
Downloads
Download data is not yet available.
References
Azlina, F. A. (2018). Penggunaan Maternal Emergency Screening (MES) sebagai Upaya Deteksi Dini pada Kegawatdaruratan Kehamilan. Dunia Keperawatan, 6(1), 49. https://doi.org/10.20527/dk.v6i1.5083
Carrandi, A., Hu, Y., Karger, S., Eddy, K. E., Vogel, J. P., Harrison, C. L., & Callander, E. (2022). Systematic review on the cost and cost-effectiveness of mHealth interventions supporting women during pregnancy. Women and Birth, December 2021. https://doi.org/10.1016/j.wombi.2022.03.007
Cheshire, J., Lissauer, D., Parry-Smith, W., Tobias, A., Smith, G. B., Isaacs, R., & Hundley, V. (2021). Escalation triggers and expected responses in obstetric early warning systems used in UK consultant-led maternity units. Resuscitation Plus, 5(September 2020), 1–8. https://doi.org/10.1016/j.resplu.2020.100060
Connor, K., Wambach, K., & Baird, M. B. (2018). Descriptive, Qualitative Study of Women Who Use Mobile Health Applications to Obtain Perinatal Health Information. JOGNN - Journal of Obstetric, Gynecologic, and Neonatal Nursing, 47(6), 728–737. https://doi.org/10.1016/j.jogn.2018.04.138
Edwards, K. J., Bradwell, H. L., Jones, R. B., Andrade, J., & Shawe, J. A. (2021). How do women with a history of gestational diabetes mellitus use mHealth during and after pregnancy? Qualitative exploration of women's views and experiences. Midwifery, 98(March 2021), 102995. https://doi.org/10.1016/j.midw.2021.102995
Fouly, H., Abdou, F. A., Abbas, A. M., & Omar, A. M. (2018). Audit for quality of care and fate of maternal critical cases at Women's Health Hospital. Applied Nursing Research, 39(February 2017), 175–181. https://doi.org/10.1016/j.apnr.2017.11.003
Inhae, C., & Jiwon, K. (2021). Effects of mHealth intervention on sexual and reproductive health in emerging adulthood: A systematic review and meta-analysis of randomized controlled trials. International Journal of Nursing Studies, 119(2021), 103949. https://doi.org/10.1016/j.ijnurstu.2021.103949
Khanjari, S., Bell, E. F., Sadeghi, L. A., Sabzehei, M. kazem, & Haghani, S. (2021). The impact of a mobile health intervention on the sense of coherence and quality of life of mothers with premature infants. Journal of Neonatal Nursing, 27(6), 444–450. https://doi.org/10.1016/j.jnn.2021.06.008
Kobayashi, H., Osanai, Y., Sado, T., Naruse, K., & Horiguchi, M. (2017). Development and Feasibility of a Tablet-based Self-monitoring and Management System in Pregnant Women. Journal of Mobile Technology in Medicine, 6(1), 19–25. https://doi.org/10.7309/jmtm.6.1.3
Phagdol, T., Nayak, B. S., Lewis, L. E., Bhat Y, R., & Guddattu, V. (2022). Effectiveness of mHealth application in improving knowledge of mothers on preterm home care. Journal of Neonatal Nursing, August. https://doi.org/10.1016/j.jnn.2022.08.004
Purbaningsih, E., & Hariyanti, T. S. (2020). Pemanfaatan Sistem Telehealth Berbasis Web Pada Ibu Hamil?: Kajian Literatur. Jurnal Ilmiah Ilmu Keperawatan Indonesia, 10(04), 163–171. https://doi.org/10.33221/jiiki.v10i04.683
Puspitasari, I., Indrianingrum, I., Kudus, U. M., & Kudus, U. M. (2020). dan Perilaku Pencegahan Adanya Tanda Bahaya Kehamilan pada Ibu Hamil. Prosiding Seminar Nasional Unimus, 666–672.
Sari, I. M., & Thalib, F. (2019). Pembuatan Aplikasi Sistem Pakar Berbasis Web Untuk Diagnosis Penyakit Infeksi Yang Disebabkan Oleh Bakteri Dan Virus. Jurnal Ilmiah Informatika Komputer, 24(1), 1–13. https://doi.org/10.35760/ik.2019.v24i1.1985
Smith, V., O'Malley, D., & Cithambaram, K. (2022). Early warning systems in maternity care: A qualitative evidence synthesis of maternity care providers' views and experiences. Midwifery, 112, 103402. https://doi.org/10.1016/j.midw.2022.103402
Gillespie, K. H., Chibuk, A., Doering, J., & Nelson, K., 3rd (2021). Maternity Nurses' Responses to Maternal Early Warning Criteria. MCN. The American journal of maternal child nursing, 46(1), 36–42. https://doi.org/10.1097/NMC.0000000000000683
Kemenkes. (2021) Kemenkes Perkuat Upaya Penyelamatan Ibu dan Bayi. https://sehatnegeriku.kemkes.go.id/baca/umum/20210914/3738491/kemenkes-perkuat-upaya-penyelamatan-ibu-dan-bayi/
Killion M. M. (2020). Empowering Women to Recognize Maternal Warning Signs. MCN. The American journal of maternal child nursing, 45(6), 372. https://doi.org/10.1097/NMC.0000000000000670
Soegijoko, S. (2010). Telemedika dan E-Health serta Prospek Aplikasinya di Indonesia. Seminar Nasional Aplikasi Teknologi Informasi, 2010(Snati).
Who. (2019). Maternal Morality. https://www.who.int/en/news-room/fact-sheets/detail/maternal-mortality
Zhang, M., Zhang, W., Yang, H., Zhang, J., Li, Q., Xu, R., & Shi, P. (2022). Design and evaluation of maternal early warning system to reduce preventable maternal mortality in pregnancy and puerperium for high-risk women in China. Midwifery, 112. https://doi.org/10.1016/j.midw.2022.103392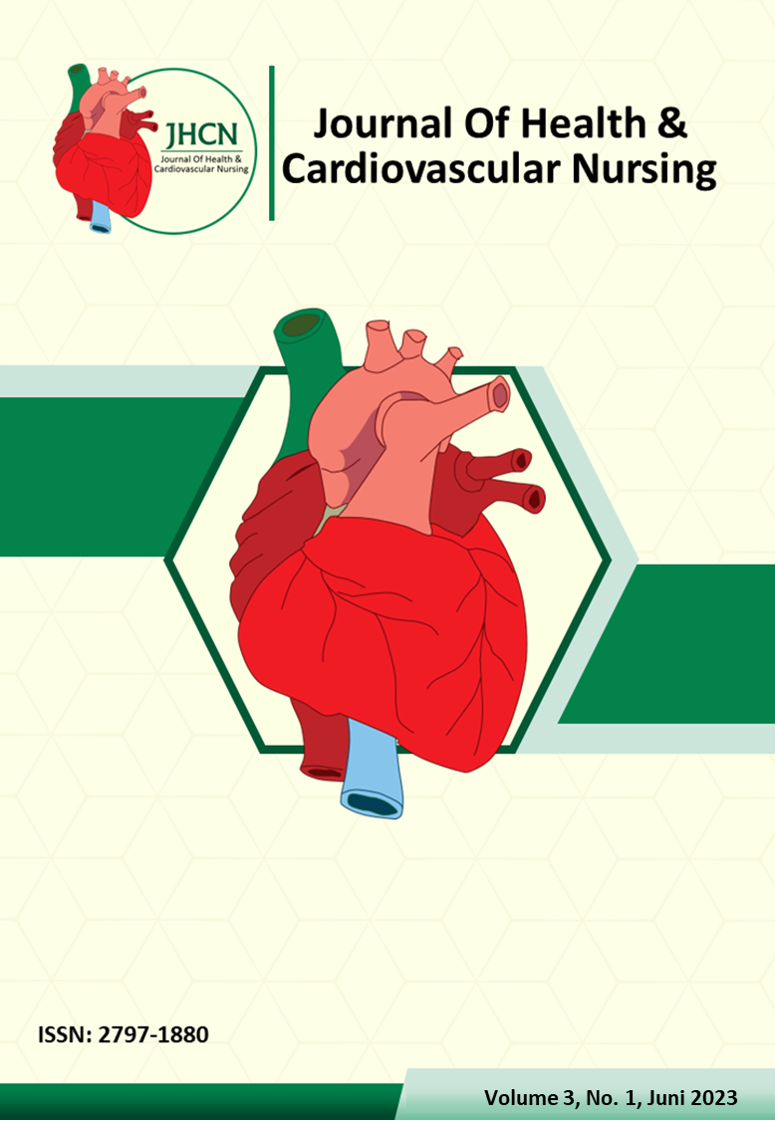 Copyright & Licensing
Copyright (c) 2023 Journal of Health and Cardiovascular Nursing
This work is licensed under a Creative Commons Attribution-ShareAlike 4.0 International License.