Analyze The Activities Of Oral Motor Exercise Intervention In Stroke Patients In Neurology Ward: Case Report
Analisis Asuhan Keperawatan Penerapan Intervensi Keperawatan Oral Motor Exercise Pada Pasien Stroke Iskemik Di Ruang Neurologi: Laporan Kasus
Keywords:
latihan oral motor exercise, disfagia, stroke
Abstract
 The incidence of dysphagia was found to occur in stroke patients 19% to 81%.. Nurses are one of the health profesionalhas an important role to management dysphagia. Delay management treatments of dysphagia lead complications suchas pneumonia, malnutrition, dehydration, even death. The purpose of this paper to analyze the activities of oral motorexercise intervention in stroke patients in restoring swallowing function. Oral motor exercise is an exercise in themovement of the tongue, lips, and jaw used for swallowing exercises. Mr. R is 62 years old had ischemic stroke who hascentral NVII sinistra paresis and NXII sinistra paresis so that it is disturbed in the swallowing process. Oral motorexercise is conducted once a day in 10 minutes for 6 days. Screening used Massey Bedside Swallowing Screen (MBSS)and evaluation of intervention using royal Adelaide Prognostic Index for Dysphagic Stroke (RAPIDS). The results showedan improvement in swallowing function assessed by the RAPIDS Test (Royal Adelaide Prognostic Index for DysphagicStroke). The RAPIDS score before the intervention was 78, and the RAPIDS score after the intervention was 91. Basedon this research occur a significant change in the improvement of swallowing function in stroke patients. This paperexpected to be information in the field of nursing in the application of nursing care to stroke patients with dysphagia withthe provision of oral motor exercise.
Downloads
Download data is not yet available.
References
Ardi, Muhammad. (2019). "Swallowing
Strategy And Oral Motor Exercise For
Prevention Of Aspiration In Stroke
Patients." Media Keperawatan, vol. 10,
no. 1, pp. 14-18,
doi:10.32382/jmk.v10i1.967.
Bahia MM, Mourão LF, Chun RY. (2016).
Dysarthria as a predictor of dysphagia
following stroke. NeuroRehabilitation.;
(2):155-62. doi: 10.3233/NRE-
PMID: 26923355.
Bahia, M. M., Mourão, L. F., & Chun, R. Y.
(2016). Dysarthria as a predictor of
dysphagia following
stroke. NeuroRehabilitation, 38(2),
–162. https://doi.org/10.3233/NRE-
Bath, P. M., Lee, H. S., & Everton, L. F.
(2018). Swallowing therapy for
dysphagia in acute and subacute
stroke. The Cochrane database of
systematic reviews, 10(10), CD000323.
https://doi.org/10.1002/14651858.CD00
pub3
Broadley, S., Cheek, A., Salonikis, S.,
Whitham, E., Chong, V., Cardone, D.,
Alexander, B., Taylor, J., & Thompson,
P. (2005). Predicting prolonged
dysphagia in acute stroke: the Royal
Adelaide Prognostic Index for
Dysphagic Stroke
(RAPIDS). Dysphagia, 20(4), 303–310.
https://doi.org/10.1007/s00455-005-
-y
Chang, W. H., Sohn, M. K., Lee, J., Kim, D.
Y., Lee, S. G., Shin, Y. I., Oh, G. J., Lee,
Y. S., Joo, M. C., Han, E. Y., & Kim, Y.
H. (2016). Impact of central facial palsy
and dysarthria on quality of life in
patients with stroke: The KOSCO
study. NeuroRehabilitation, 39(2), 253–
https://doi.org/10.3233/NRE-
Clarkson, K. (2016). The management of
dhysphagia after Stroke. British Journal
of Neuroscience Nursing.
DOI:10.12968/bjnn.2011.7.1.436
Fang, W. J., Zheng, F., Zhang, L. Z., Wang, W.
H., Yu, C. C., Shao, J., & Wu, Y. J.
(2022). Research progress of clinical
intervention and nursing for patients
with post-stroke
dysphagia. Neurological sciences :
official journal of the Italian
Neurological Society and of the Italian
Society of Clinical
Neurophysiology, 43(10), 5875–5884.
https://doi.org/10.1007/s10072-022-
-9
Jiang, J. L., Fu, S. Y., Wang, W. H., & Ma, Y.
C. (2016). Validity and reliability of
swallowing screening tools used by
nurses for dysphagia: A systematic
review. Ci ji yi xue za zhi = Tzu-chi
medical journal, 28(2), 41–48.
https://doi.org/10.1016/j.tcmj.2016.04.006
Kent R. D. (2015). Nonspeech Oral Movements
and Oral Motor Disorders: A Narrative
Review. American journal of speechlanguage pathology, 24(4), 763–789.
https://doi.org/10.1044/2015_AJSLP-14-
Logemann J. A. (2012). Clinical efficacy and
randomized clinical trials in
dysphagia. International journal of
speech-language pathology, 14(5), 443–
https://doi.org/10.3109/17549507.2012.
Lin, S. C., Lin, K. H., Tsai, Y. C., & Chiu, E.
C. (2021). Effects of a food preparation
program on dietary well-being for stroke
patients with dysphagia: A pilot
study. Medicine, 100(25), e26479.
https://doi.org/10.1097/MD.000000000
Marzouqah, R., Huynh, A., Chen, J. L.,
Boulos, M. I., & Yunusova, Y. (2023).
The role of oral and pharyngeal motor
exercises in post-stroke recovery: A
scoping review. Clinical
rehabilitation, 37(5), 620–635.
https://doi.org/10.1177/0269215522114
Mulyatsih, E. (2009). Pengaruh Latihan
Menelan terhadap Status Fungsi
Menelan pasien Stroke dengan Disfagia
dalam Konteks Asuhan Keperawatan di
RSUPN Dr. Cipto Mangunkusumo dan
RSUP Fatmawati. Universitas Indonesia
Ogura et al. (2011). Brain Activation During
Oral Exercises Used for Dysphagia
Rehabilitation in Healthy Human
Subjects: A Functional Magnetic
Resonance Imaging Study. Springer
Science+Business Media, LLC.
Padma, R.G., Pinzon, R.T., Pramudita, E.A.
(2017). Kejadian Disfagia pada saat
masuk rumah sakit sebagai factor
prognosis buruk luaran klinis pada
pasien stroke iskemik. Yogyakarta:
Universitas Kristen Duta Wacana.
Park JS, Kim HJ, Oh DH. (2015). Effect of
tongue strength training
using the Iowa oral performance
instrument in stroke patients
with dysphagia. J Phys Ther
Sci.;27(12):3631-3634. https://
doi.org/10.1589/jpts.27.3631
Rudd, T. (2012). National Clinical Guideline
For Stroke, Fifth Edition. London:
Intercollegiate Stroke Working Party
SDKI DPP PPNI. (2017). Standar Diagnosis
Keperawatan Indonesia (1st ed.). DPP
PPNI.
World Health Organization. (2018). Global
Health Estimates 2016: Deaths by
Cause, Age and Sex, 2000-2016
http://www.who.int/healthinfo/global_b
urden_disease/estimates/en/
Ye D, Chen C, Song D, Shen M, Liu H, Zhang
S, Zhang H, Li J, Yu W, Wang Q. (2018)
Oropharyngeal Muscle Exercise
Therapy Improves Signs and Symptoms
of Post-stroke Moderate Obstructive
Sleep Apnea Syndrome. Front Neurol.
Oct 29;9:912. doi:
3389/fneur.2018.00912. PMID:
; PMCID: PMC6215830.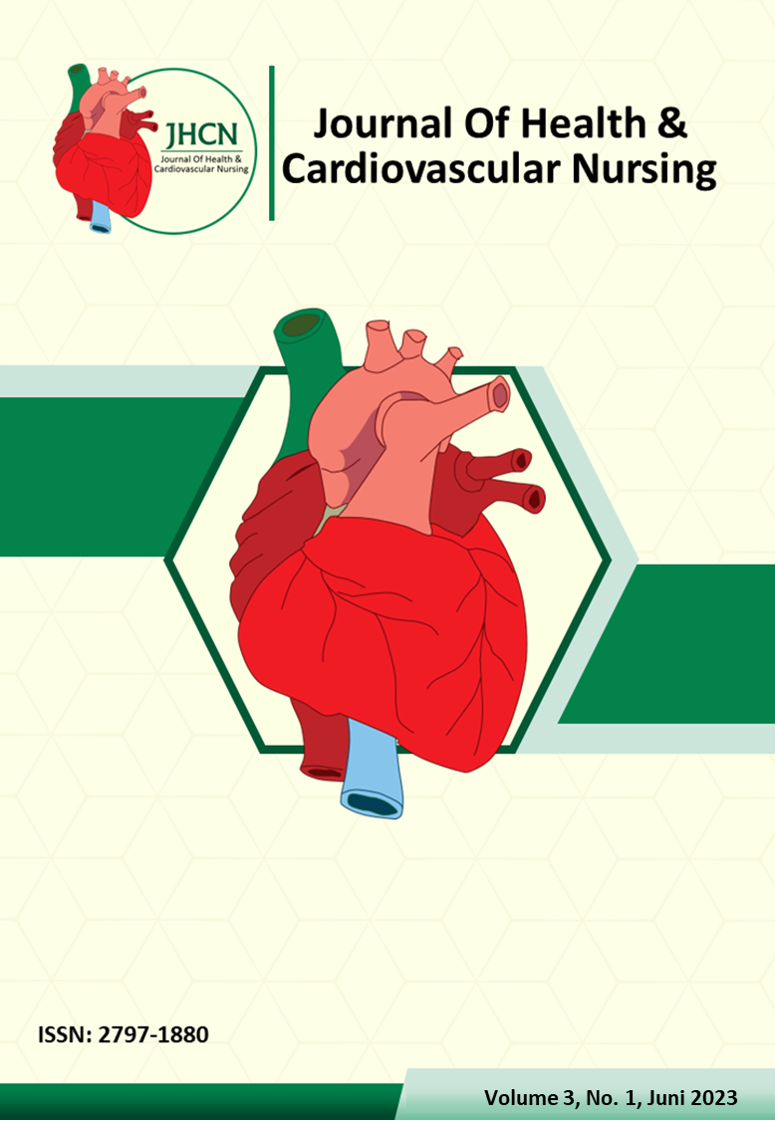 Copyright & Licensing
Copyright (c) 2023 Journal of Health and Cardiovascular Nursing
This work is licensed under a Creative Commons Attribution-ShareAlike 4.0 International License.