Efektivitas Telenursing Terhadap Fungsi Lutut Pasien Post Total Knee Arthroplasty
Keywords:
Kata kunci: keperawatan, ortopedi telenursing.
Abstract
Fungsi lutut pada pasien post TKA (Total Knee Arthroplasty) menjadi indikator pasien dapat melakukan aktivitas fisikseperti semula. Kontinuitas perawatan diperlukan pada pasien post TKA saat pasien di rumah agar pemulihan setelahoperasi dapat optimal dengan implementasi telenursing. Telenursing dapat menjadi media pemantauan dan edukasi pasien post TKA untuk menjalani latihan di rumah dalam rangka meningkatkan fungsi lutut setelah operasi. Tujuan dari studi literatur ini adalah untuk melihat pengaruh telenursing terhadap fungsi lutut pasien post TKA. Jurnal yang ditelaah pada studi literatur ini didapatkan dari online database journal yaitu ProQuest, Science Direct, PubMed, SAGE, dan WileyOnline Library dari tahun 2016-2021, dengan kata kunci "telenursing", "total joint arthroplasty", "nursing", serta "totalknee arthroplasty". Bentuk telenursing yang ada dalam studi literatur ini adalah telepon terstruktur, telepon konselingdan SMS, aplikasi edukasi berbasis mobile, video melalui pesan teks, dan telephone follow-up. Berdasarkan hasil review,didapatkan data bahwa telenursing yang mempunyai pengaruh pada fungsi lutut pasien adalah telepon terstruktur, telepon konseling dan SMS, aplikasi edukasi berbasis mobile, dan video melalui pesan teks. Telenursing merupakan suatu sistem yang komprehensif untuk memantau dan memberikan edukasi pada pasien post TKA sehingga dapat meningkatkan fungsi lutut pasien.
Downloads
Download data is not yet available.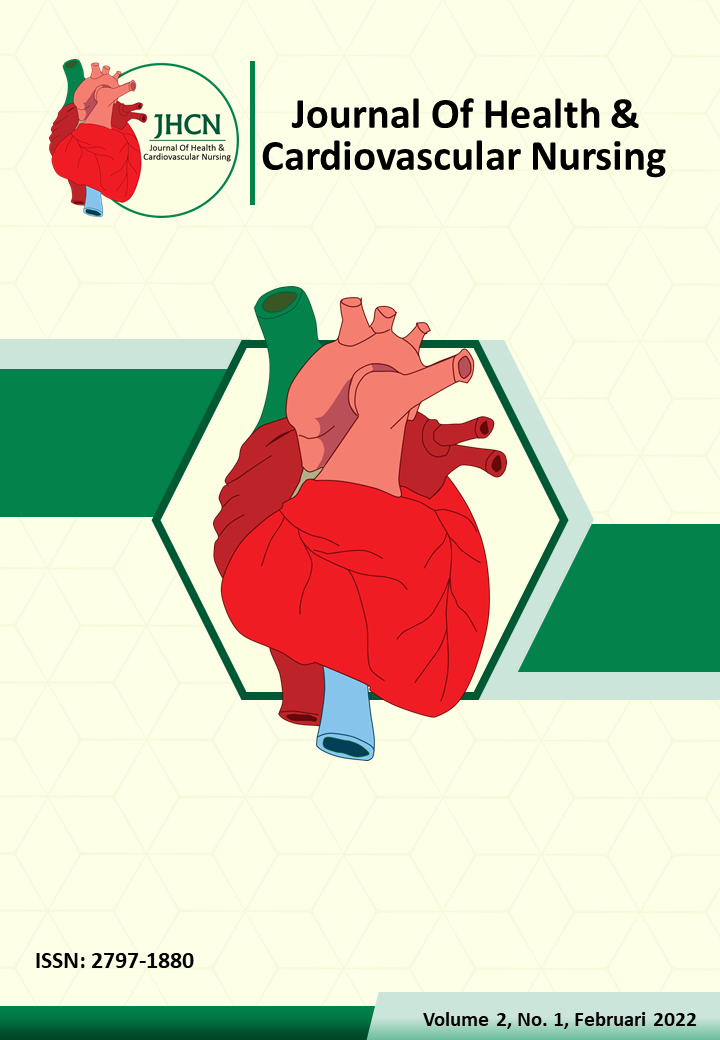 Copyright & Licensing
Copyright (c) 2022 Journal of Health and Cardiovascular Nursing
This work is licensed under a Creative Commons Attribution-ShareAlike 4.0 International License.