The Effect of Deep Breathing Exercise on the Level of Dyspnea in Heart Failure at the Depok City Hospital
Deep Breathing Exercise Terhadap Tingkat Dyspnea Pada Gagal Jantung di Rumah Sakit Wilayah Depok
Keywords:
Deep Breathing Exercise; Dyspnea; Gagal Jantung
Abstract
 Heart failure is a chronic, progressive disease that occurs when the heart muscle can't pump enough blood to meet thebody's need for blood and oxygen. Heart failure is caused by problems with heart function, valve disease, or anythingthat can block blood flow in the context of fluid retention resulting in pulmonary congestion, peripheral edema, shortnessof breath, and fatigue. Efforts to control the symptoms experienced by heart failure patients by doing deep breathingexercise. This study aims to determine whether there is an effect of deep breathing exercise on reducing dyspnea in heartfailure patients at the Depok Regional Hospital. This type of research uses a quasi-experimental research design with apretest posttest with control group approach involving 34 respondents with a purposive sampling technique. The researchmeasuring tool uses a modified borg scale. Intervention by giving deep breathing exercise 15 times which is done 3 timesa day for 3 days. The results of the study found that there was an effect of deep breathing exercise on reducing dyspneain heart failure patients at the Depok Regional Hospital with a p-value (p<0,05). Researchers recommend the applicationof deep breathing exercise as a form of intervention in the inpatient phase to reduce dyspnea in heart failure patients andadd variables that have not been studied.
Downloads
Download data is not yet available.
References
Albert, N., Trochelman, K., Li, J., & Lin, S. (2010). Signs and symptoms of heart failure: Are you asking the right questions? American Journal of Critical Care, 19(5), 443–452. https://doi.org/10.4037/ajcc2009314
Alkan, H. O., Uysal, H., Enc, N., & Yigit, Z. (2017). Influence of Breathing Exercise Education Applied on Patients with Heart Failure on Dyspnoea and Quality of Sleep: A Randomized Controlled Study. International Journal of Medical Research & Health Sciences, 6(9 LB-WEB OF SCIENCE), 107–113. www.ijmrhs.com
American Heart Association. (2017). Heart Failure. https://www.heart.org/en/health-topics/heart-failure
Anindia, W., Rizkifani, S., & Iswahyudi. (2019). Kajian karakteristik pasien gagal jantung kongestif di rumah sakit sultan syarif mohamad alkadrie pontianak. Jurnal Mahasiswa Farmasi Fakultas Kedokteran UNTAN, 4(1), 1–6.
Bosch, L., Assmann, P., de Grauw, W. J. C., Schalk, B. W. M., & Biermans, M. C. J. (2019). Heart failure in primary care: prevalence related to age and comorbidity. Primary Health Care Research & Development, 20, e79. https://doi.org/10.1017/S1463423618000889
Bosnak-Guclu, M., Arikan, H., Savci, S., Inal-Ince, D., Tulumen, E., Aytemir, K., & Tokgözoglu, L. (2011). Effects of inspiratory muscle training in patients with heart failure. Respiratory Medicine, 105(11), 1671–1681. https://doi.org/10.1016/j.rmed.2011.05.001
Dinas Kesehatan Depok. (2018). Profil kesehatan Kota Depok. Profil Kesehatan Kota Bukittinggi, 54, 38–74. http://www.depkes.go.id/resources/download/profil/PROFIL_KAB_KOTA_2016/3276_Jabar_Kota_Depok_2016.pdf
Fabris, D., Saito, T., Yamada, T., Sun, X., Wilhite, P., & Yang, C. Y. (2015). Pedoman Tatalaksana Gagal Jantung. Perhimpunan Dokter Spesialis Kardiovaskular Indonesia, 848–853.
Hanafiah, G. A. (2019). Karakteristik Skala Borg pada Penyakit Paru Obstruktif Kronik. In Fakutas Kedokteran.
Harigustian, Y., Dewi, A., & Khoiriyati, A. (2016). Gambaran Karakteristik Pasien Gagal Jantung Usia 45 – 65 Tahun Di Rumah Sakit Pku Muhammadiyah Gamping Sleman. Indonesian Journal of Nursing Practices, 1(1), 55–60. https://doi.org/10.18196/ijnp.1152
Interaksi, K., Pada, O., Yasin, N. M., Widyastuti, H. T., Dewi, K., Farmakologi, B., Farmasi, F., & Gadjah, U. (2005). Pasien Gagal Jantung Kongestif Di Rsup Dr . Sardjito Yogyakarta. 15–22.
Kemenkes RI. (2014). Situasi kesehatan jantung. Pusat Data Dan Informasi Kementerian Kesehatan RI, 3. https://doi.org/10.1017/CBO9781107415324.004
Kemenkes RI. (2018). Hasil Riset Kesehatan Dasar Tahun 2018. Kementrian Kesehatan RI, 53(9), 1689–1699.
Kemenkes RI. (2020). Keputusan Menteri Kesehatan Republik Indonesia Nomor Hk.01.07/Menkes/446/2020 Tentang Petunjuk Teknis Klaim Penggantian Biaya Pelayanan Pasien Penyakit Infeksi Emerging Tertentu Bagi Rumah Sakit Yang Menyelenggarakan Pelayanan Corona Virus Disease 2019 (C. Keputusan Menteri Kesehatan Republik Indonesia, 1(1), 4–23. https://wellness.journalpress.id/wellness/article/view/21026
Khaerunnisa, T., Susanti, Y., & Putri, Y. S. . (2016). Penerapan asuhan keperawatan ansietas pada pasien gagal jantung kongestif. Jurnal Keperawatan Jiwa, 4(2), 74–82. https://jurnal.unimus.ac.id/index.php/JKJ/article/view/4384
LeMone, P., Burke, K. M. ., & Bauldoff, G. (2015). Buku Ajar Keperawatan Medikal Bedah (5th ed.). EGC.
Muttaqin, A. (2012). Buku Ajar Asuhan Keperawatan Klien dengan Gangguan Sistem Kardiovaskular dan Hematologi. Salemba Medika.
Nirmalasari, N. (2017). Deep Breathing Exercise and Active Range of Motion Effectively Reduce Dyspnea in Congestive Heart Failure Patients. NurseLine Journal, 2(2), 159. https://doi.org/10.19184/nlj.v2i2.5940
Norelli, S. K., Long, A., & Krepps, J. M. (2022). Relaxation Techniques. In [Updated 2021 Sep 6]. In: StatPearls [Internet]. Treasure Island (FL): StatPearls Publishing. https://www.ncbi.nlm.nih.gov/books/NBK513238/#_NBK513238_pubdet_
P2PTM Kemenkes RI. (2018). Lindungi Keluarga Dari Diabetes. Kementrian Kesehatan RI. P2PTM Kemenkes RI
P2PTM Kemenkes RI. (2019). Hari Hipertensi Dunia 2019?: "Know Your Number, Kendalikan Tekanan Darahmu dengan CERDIK.". Kementrian Kesehatan RI. http://p2ptm.kemkes.go.id/kegiatan-p2ptm/pusat-/hari-hipertensi-dunia-2019-know-your-number-kendalikan-tekanan-darahmu-dengan-cerdik
Purbianto, & Agustanti, D. (2015). Analisis Faktor Risiko Gagal Jantung Di RSUD dr. H. Abdul Moeloek Provinsi Lampung. Jurnal Keperawatan, XI(2), 194–203.
Sari, P. R., Rampengan, S. H., & Panda, A. L. (2013). Hubungan Kelas Nyha Dengan Fraksi Ejeksi Pada Pasien Gagal Jantung Kronik Di Blu/Rsup Prof. Dr. R.D. Kandou Manado. E-CliniC, 1(2). https://doi.org/10.35790/ecl.1.2.2013.3266
Sembiring, E. (2015). Hubungan Antara Kepatuhan Diet Rendah Garam, Kepatuhan Minum Obat, Riwayat Hipertensi Dengan Kejadian Rehospitalisasi Pada Pasien Gagal Jantung Kongestif. 80–98.
Sepdianto, T. C., Tyas, M. D. C., & Anjaswari, T. (2013). Peningkatan Saturasi Oksigen Melalui Latihan Deep Diaphragmatic Breathing Pada Pasien Gagal Jantung. In Jurnal Keperawatan dan Kebidanan (JIKK) (Vol. 1, Issue 8, pp. 477–484). http://download.garuda.ristekdikti.go.id/article.php?article=1005839&val=8606&title=PENINGKATAN SATURASI OKSIGEN MELALUI LATIHAN DEEP DIAPHRAGMATIC BREATHING PADA PASIEN GAGAL JANTUNG
Suharto, D. N. (2021). Deep Breathing Exercise Dan Aktivitas Bertahap Dalam Menurunkan Dyspnea Pada Pasien Congestive Heart Failure. Jurnal Ilmiah PANNMED (Pharmacist, Analyst, Nurse, Nutrition, Midwivery, Environment, Dentist), 16(1), 83–86. https://doi.org/10.36911/pannmed.v16i1.1031
Suratinoyo, I., Rottie, J. V., Massi, G. N., & Program. (2016). HUBUNGAN TINGKAT KECEMASAN DENGAN MEKANISME KOPING PADA PASIEN GAGAL JANTUNG KONGESTIF DIRUANGAN CVBC (CARDIO VASKULER BRAIN CENTRE) LANTAI III DI RSUP. PROF. DR. R. D. KANDOU MANADO. Keperawatan, 4. https://doi.org/10.1093/nq/s2-III.68.306-a
Westerdahl, E., Urell, C., Jonsson, M., Bryngelsson, I. L., Hedenström, H., & Emtner, M. (2014). Deep breathing exercises performed 2 months following cardiac surgery: A randomized controlled trial. Journal of Cardiopulmonary Rehabilitation and Prevention, 34(1), 34–42. https://doi.org/10.1097/HCR.0000000000000020
Widagdo, F., Karim, D., & Novayellinda, R. (2015). Faktor-Faktor Yang Berhubungan Dengan Kejadian Rawat Inap Ulang Dirumah Sakit Pada Pasien Chf. Jurnal Online Mahasiswa Program Studi Ilmu Keperawatan Universitas Riau, 2(1), 580–589.
World Health Organization. (2021a). Cardiovaskular Disease. World Health Organization.
World Health Organization. (2021b). Diabetes. World Health Organization. https://www.who.int/news-room/fact-sheets/detail/diabetes
World Health Organization. (2021c). Hypertension. World Health Organization. https://www.who.int/news-room/fact-sheets/detail/hypertension
Wulandari, T., Nurmainah, & Robiyanto. (2015). Gambaran Penggunaan Obat Pada Pasien Gagal Jantung Kongestif Rawat Inap Di Rumah Sakit Sultan Syarif Mohamad Alkadrie Pontianak. Jurnal Farmasi Kalbar, 3(1), 1–9.
Yu, D. S. F., Lee, D. T. F., & Woo, J. (2010). Improving health-related quality of life of patients with chronic heart failure: Effects of relaxation therapy. Journal of Advanced Nursing, 66(2), 392–403. https://doi.org/10.1111/j.1365-2648.2009.05198.x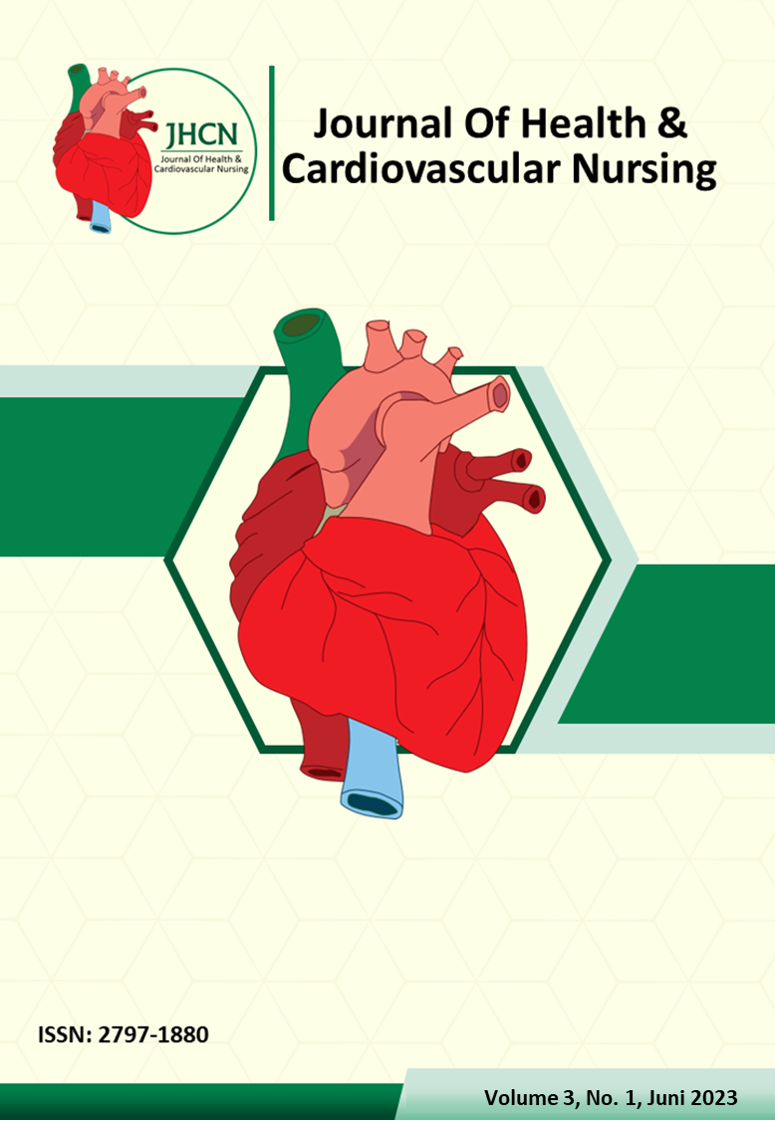 Copyright & Licensing
Copyright (c) 2023 Journal of Health and Cardiovascular Nursing
This work is licensed under a Creative Commons Attribution-ShareAlike 4.0 International License.