Online Game Addiction Increases Risk of Violent Behaviour In Adolescents
Adiksi Game Online Meningkatkan Resiko Perilaku Kekerasan Pada Remaja
Keywords:
adiksi game online, perilaku agresif, remaja
Abstract
Aggressive behaviour in adolescents is closely related to online games. Addiction that occurs in adolescents will result inaggressive behaviour such as anger and hostility, which can hurt themselves and others. The research aims to analyzethe effect of online game addiction on violent behaviour in adolescents. This type of research, quantitative with crosssectional approach. The research population was all students of class X-XI at SMA Negeri 2 Tambun Utara. Samplingused a non-probability sampling technique, namely total sampling according to the inclusion criteria of 108 respondents.The measuring tool for determining the level of online game addiction uses the instrument Chen and Chang (2008), whilefor the aggressive level using the Aggression Questionnaire Scale (BPAQ) from Buss-Perry. Data analysis used isdescriptive statistical test and chi-square test. The most played type of online game is Mobile Legend (62.1%) with aplaying duration of 3 hours (62.1%) and most of the respondents (52.4%) have high aggressive behaviour. The results ofthe chi square test obtained p-value = 0.001 with ? = 0.05 (p-value <?), meaning that there is a significant relationshipbetween online game addiction and aggressive behaviour in students, with an OR of 3,770, which means that respondentswith high addiction have a 3.77 chance of highly aggressive behaviour compared to respondents with low addiction.
Downloads
Download data is not yet available.
References
Apriyanti, M. F., & Harmanto. (2015). Perilaku Agresif Remaja Yang Gemar Bermain Game Online (Studi Kasus Dikelurahan Ngagel Rejo Kecamatan Wonokromo Surabaya). Kajian Moral Dan Kewarganegaraan, 3(3), 994–1008.
Isnaini, I. et al. (2021) 'Intensitas Bermain Game Online Berhubungan dengan Perilaku Agresif Verbal Remaja', Jurnal Keperawatan Jiwa (JKJ): Persatuan Perawat Nasional Indonesia, 9(1), pp. 235–242.
Kartini, H. (2016). Hubungan antara konformitas teman sebaya dan intensitas bermain game online dengan intensi berperilaku agresif pada siswa. Psikoborneo, 4(4), 482–489.
Khaerullah, U., Widianti, E., & Sumarni, N. (2020). Tingkat Agresivitas Mahasiswa Universitas Padjadjaran Kampus Garut Yang Mengalami Kecanduan Game Online. Itnow, 50(4), 8–10. http://ejurnal.ars.ac.id/index.php/keperawatan/article/view/167
Lestari, A. M. (2019). Hubungan Kecanduan Game Online Dengan Perilaku Agresif Pada Remaja. Journal Psikologi, 9(1), 12–16.
Malik, R. Et Al. (2020). Alienasi Remaja Dari Lingkungan Sosial (Telaah Kritis Pada Generasi Muda Pecinta Game Online ). Jurnal Kajian Sosiologi, 9(2), 46–58.
Novrialdy, E. (2019). Kecanduan Game Online pada Remaja: Dampak dan Pencegahannya. Buletin Psikologi, 27(2), 148. https://doi.org/10.22146/buletinpsikologi.47402
Nurnainah, Palembai, A., & Jumasnatang. (2021). Faktor yang Mempengaruhi Resiko Perilaku Adiksi Bermain Game Online pada Remaja Siswa. Jurnal Keperawatan Jiwa (JKI): Perawat Persatuan Nasional Indonesia, 9(3), 629–636.
Oktalia, P. (2019). Hubungan Kecanduan Game Online Dengan Perilaku Agresif Siswa Di Smp Negeri 4 Ungaran. Skripsi.
Oktavian, N., Nurhidayat, S. Dan Nasriati, R. (2018) 'Pengaruh Durasi Bermain Terhadap Adiksi Game Online Pada Remaja Di Warung Internet Xgc Kecamatan Dolopo Kabupaten Madiun', Health Sciences Journal, 2(2), P. 72. Doi: 10.24269/Hsj.V2i2.160.
Sari, A. P., Ilyas, A., & Ifdil, I. (2017). Tingkat Kecanduan Internet pada Remaja Awal. JPPI (Jurnal Penelitian Pendidikan Indonesia), 3(2), 110–117. https://doi.org/10.29210/02018190
Seok, S., & DaCosta, B. (2014). An Investigation into the Questionable Practice of Using Excessive Massively Multiplayer Online Game Play as a Marker of Pathological Video Game Dependence among Adolescent and Young Adult Male Players. Psychology, 05(04), 289–299. https://doi.org/10.4236/psych.2014.54039
Setiawan, H. S. (2018). Analisis Dampak Pengaruh Game Mobile Terhadap Aktifitas Pergaulan Siswa Sdn Tanjung Barat 07 Jakarta. Faktor Exacta, 11(2), 146. https://doi.org/10.30998/faktorexacta.v11i2.2338
Surjaya, A. (2021). 2 Remaja Bekasi Gangguan Jiwa Akibat Kecanduan Bermain Game di Ponsel. Sindonews.Com. https://megapolitan.okezone.com/read/2021/03/18/338/2379910/kecanduan-game-online-2-pelajar-smp-di-bekasi-dirawat-di-panti-rehabilitasi#amp_tf=Dari %251%24s&aoh=16559477732196&csi=1&referrer=https%3A%2F%2Fwww.google.com
Tanjung, V. P. (2016). Game Online Dan Agresivitas Anak Usia Smp Di Sidoarjo. KANAL: Jurnal Ilmu Komunikasi, 4(1), 63. https://doi.org/10.21070/kanal.v4i1.315
Teofanda, R. (2020). Intensitas Bermain Game Online Mobile Playeruknown's Battleground (PUBG) Dengan Kencenderungan Agresivitas Pada Dewasa Awal. Cognicia, 8(1), 118–130. http://ejournal.umm.ac.id/index.php/cognicia/article/view/11749
Warsono, A. (2019). Di Bekasi, 2 Remaja Disebut Gangguan Jiwa Karena Kecanduan Ponsel. Metro.Tempo.Com. https://metro.tempo.co/amp/1262240/di-bekasi-2-remaja-disebut-gangguan-jiwa-karena-kecanduan-ponsel#amp_tf=Dari %251%24s&aoh=16559484022631&referrer=https%3A%2F%2Fwww.google.com
Wijaya, O. A. J. (2020). Gambaran Adiksi Game Online Pada Remaja. Skripsi . http://repository.untar.ac.id/15432/
Wibisono, A. dan Naryoso, A. (2019) 'Hubungan Antara Intensitas Bermain Game Mobile Legend Dan Pengawasan Orang Tua Dengan Perilaku Agresif Verbal Pada Anak Remaja', Interaksi Online, 7(3), pp. 179–187. Available at: https://ejournal3.undip.ac.id/index.php/interaksi-online/article/view/24140.
Yusnilaningsih, R. (2019, April 8). No Title. PikiranRakyat.Com. https://www.pikiran-rakyat.com/jawa-barat/pr-01309812/online-game-picu-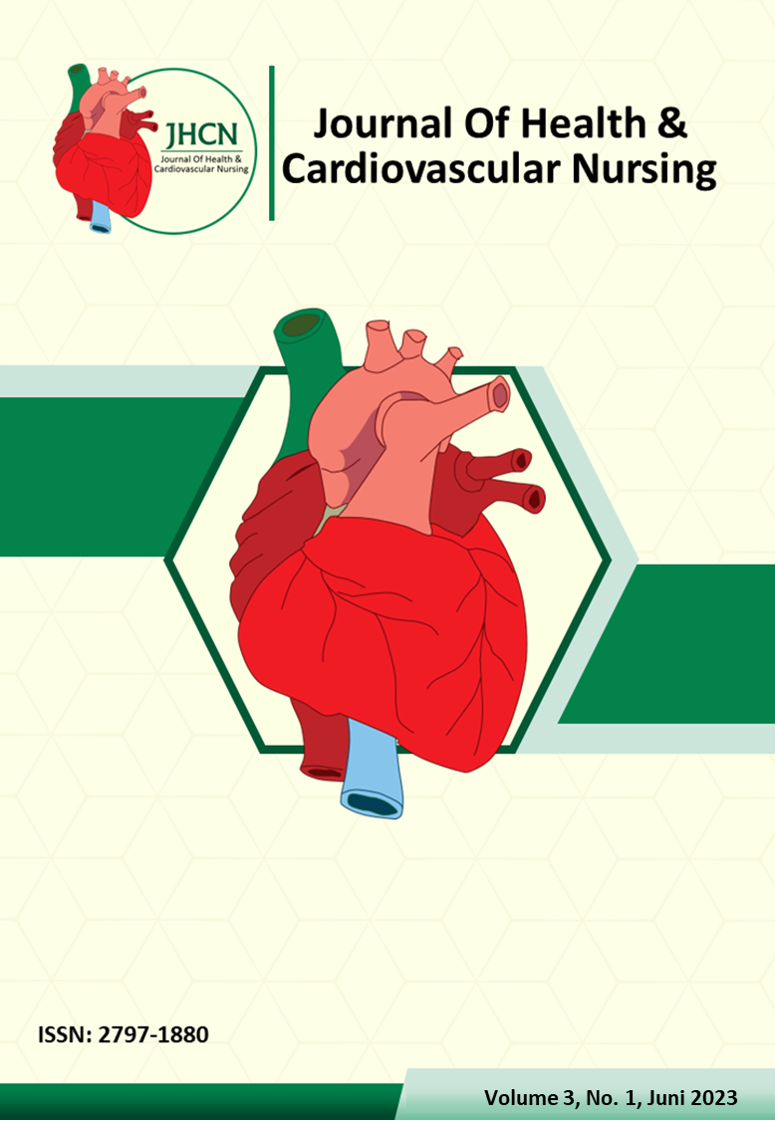 Copyright & Licensing
Copyright (c) 2023 Journal of Health and Cardiovascular Nursing
This work is licensed under a Creative Commons Attribution-ShareAlike 4.0 International License.