PELAKSANAAN KEGIATAN HYPNOBREASTFEEDING PADA IBU MENYUSUI YANG MEMPUNYAI BAYI < 3 BULAN DI PRAKTIK MANDIRI BIDAN RISMA DELI SERDANG TAHUN 2019
IMPLEMENTATION OF HYPNOBREASTFEEDING ACTIVITIES IN BREASTFEEDING MOTHERS WHO HAVE BABIES 3 MONTHS IN SELF PRACTICE MIDWIFE RISMA DELI SERDANG IN 2019
Keywords:
Hypnobreastfeeding, Breastfeeding Mother, Infant ? 3 months
Abstract
Breast milk is the only perfect and best food for babies, because it contains the nutritional elements needed by babies for infant growth and development in order to achieve optimal baby growth and development. The reality in the field is that there are still many mothers who experience obstacles/constraints to exclusively breastfeed their babies for 6 full months, even though breastfeeding is a natural condition. One solution that can help overcome barriers to exclusive breastfeeding is hypnobreastfeeding. The purpose of this community service is to increase mother's knowledge about exclusive breastfeeding and mother's confidence to be able to meet the adequacy of breastfeeding through Hypnobreastfeeding techniques in infants as an effort to increase milk production and expenditure The methods used in this Community Service activity are lectures, questions and answers, demonstrations and practices carried out by the instructor and assignments carried out by postpartum mothers who gave birth at the Independent Practice Midwife Risma as many as 15 people. The implementation of Hypnobreastfeeding activities is carried out routinely every day 5 (five) times a week by listening to Hypnobreastfeeding audio recordings for ± 30 minutes, carried out independently by the participants. The results obtained provided enormous benefits for the participants, including they felt that the baby was not fussy, slept soundly, urinated more than 6 times a day and the baby's weight increased. From this activity, it can be concluded that through counseling activities, demonstrations of correct breastfeeding methods/techniques and Hypnobreastfeeding, it can increase knowledge, skills and increase production of breast milk production and fulfill breast milk adequacy in mothers who breastfeed babies aged 3 months at the Independent Practice of Midwife Risma.
Downloads
Download data is not yet available.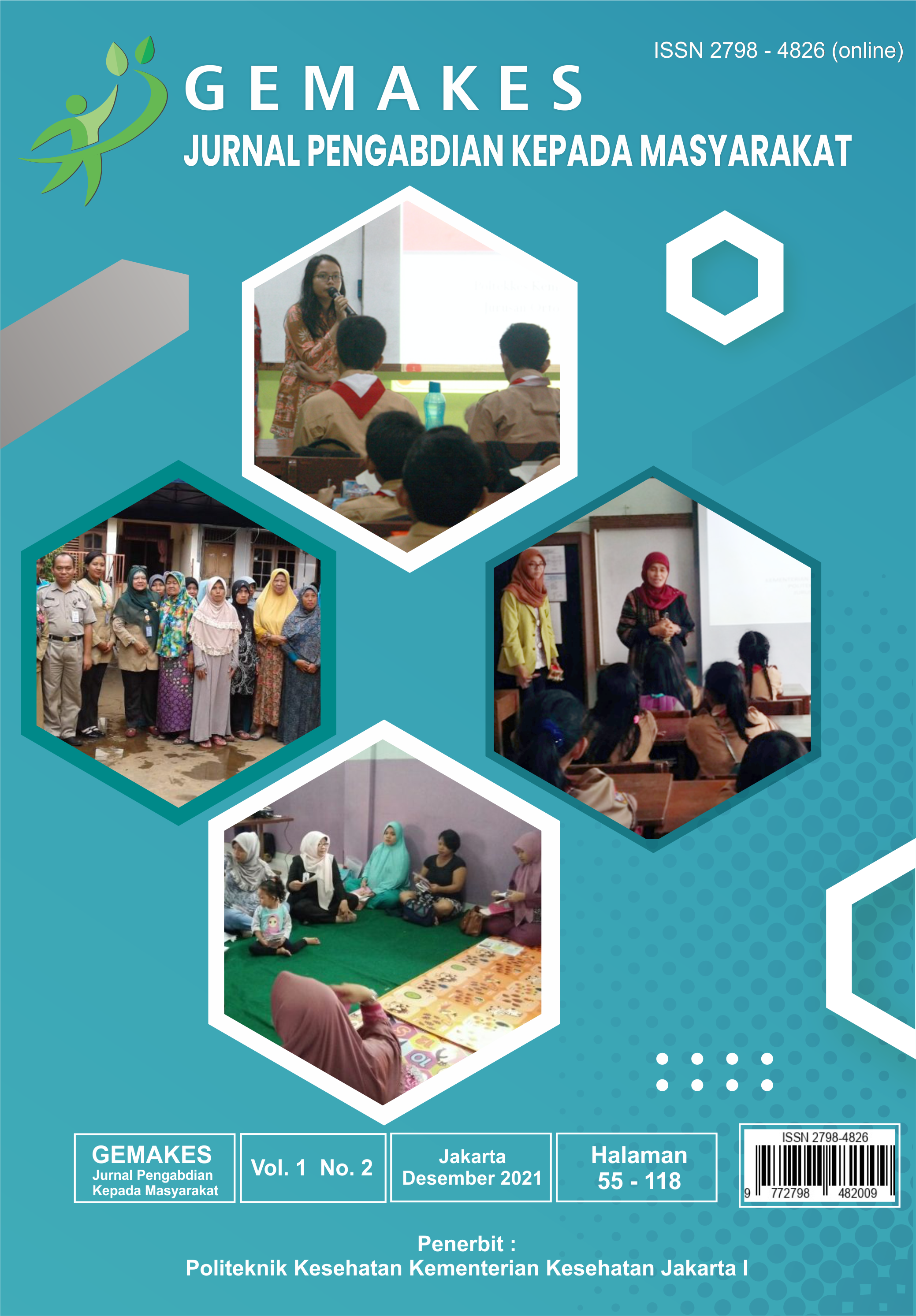 How to Cite
Lubis, R., & Siregar, Y. (2021). PELAKSANAAN KEGIATAN HYPNOBREASTFEEDING PADA IBU MENYUSUI YANG MEMPUNYAI BAYI < 3 BULAN DI PRAKTIK MANDIRI BIDAN RISMA DELI SERDANG TAHUN 2019: IMPLEMENTATION OF HYPNOBREASTFEEDING ACTIVITIES IN BREASTFEEDING MOTHERS WHO HAVE BABIES 3 MONTHS IN SELF PRACTICE MIDWIFE RISMA DELI SERDANG IN 2019. GEMAKES: Jurnal Pengabdian Kepada Masyarakat, 1(2), 113–118. https://doi.org/10.36082/gemakes.v1i2.301
Copyright & Licensing
Copyright (c) 2021 Rismahara Lubis, Yusniar Siregar
This work is licensed under a Creative Commons Attribution-ShareAlike 4.0 International License.