PENDAMPINGAN KELUARGA UNTUK PENCEGAHAN DAN DETEKSI DINI RISIKO STUNTING
FAMILY ASSISTANCE FOR STUNTING RISK PREVENTION AND EARLY DETECTION
Keywords:
Pendampingan keluarga, stunting, penyuluhan kesehatan
Abstract
Prevalensi stunting di Indonesia berdasarkan Studi Status Gizi Indonesia (SSGI) tahun 2021 sebesar 24,4% sedangkan target prevalensi stunting pada tahun 2024 sebesar 14%.  Salah satu penyebab stunting yaitu kurangnya pengetahuan ibu mengenai kesehatan dan gizi sebelum, pada masa kehamilan dan setelah melahirkan. Intervensi yang paling menentukan untuk menurunkan prevalensi stunting adalah pada 1000 Hari Pertama Kehidupan  (HPK) dari anak balita. Kegiatan pengabdian masyarakat ini bertujuan untuk pencegahan dan deteksi dini risiko stunting pada 1000 Hari Pertama Kehidupan  (HPK). Kegiatan ini dilaksanakan selama 3 bulan sejak bulan Mei-Juli 2022 di Dusun Wunutsari Desa Tegalgondo Kabupaten Malang. Sasaran pengabdian masyarakat ini adalah keluarga yang didalamnya terdapat calon pengantin perempuan, ibu hamil, ibu nifas, bayi dan bayi bawah dua tahun sebanyak 21 orang. Tahapan pengabdian masyarakat dimulai dari melakukan identifikasi, pemberian penyuluhan/edukasi kesehatan, observasi dan evaluasi. Hasil dari kegiatan ini ditemukan 1 orang calon pengantin KEK, 1 ibu hamil KEK dan 1 bayi bawah dua tahun dengan gizi kurang. Hasil kegiatan ini juga didapatkan peningkatan pengetahuan dari sasaran. Pendampingan keluarga pada calon pengantin, ibu hamil, ibu nifas, bayi dan bayi bawah dua tahun merupakan upaya yang efektif dalam pencegahan dan deteksi dini risiko stunting.
Downloads
Download data is not yet available.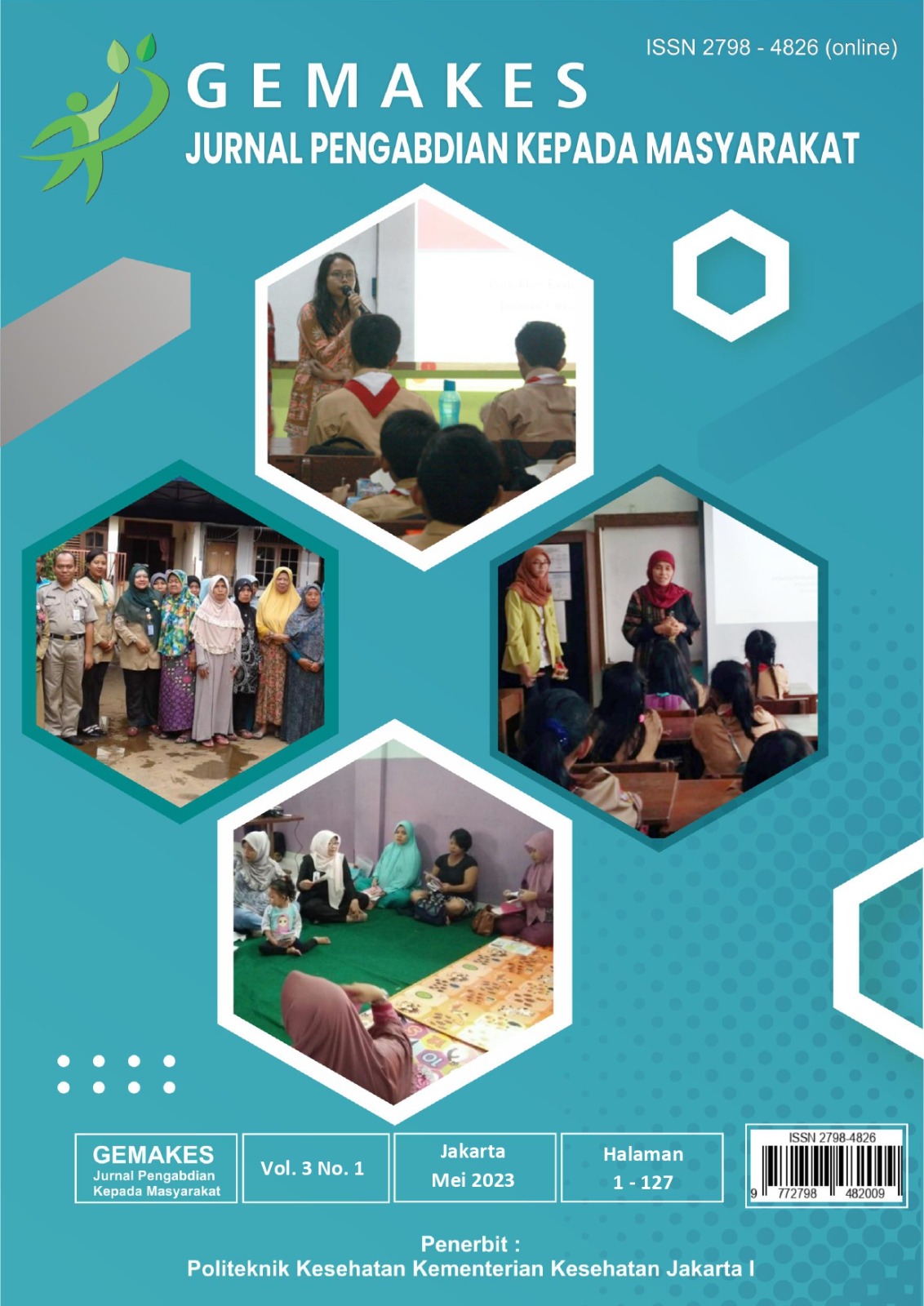 How to Cite
Septiasari, R. M. ., Mayasari, D. ., Purwanza, S. W., & Nissa, C. . (2023). PENDAMPINGAN KELUARGA UNTUK PENCEGAHAN DAN DETEKSI DINI RISIKO STUNTING: FAMILY ASSISTANCE FOR STUNTING RISK PREVENTION AND EARLY DETECTION. GEMAKES: Jurnal Pengabdian Kepada Masyarakat, 3(1), 46–50. https://doi.org/10.36082/gemakes.v3i1.1054
Copyright & Licensing
Copyright (c) 2023 Sena Wahyu Purwanza, S.Kep., Ners., M.Kep
This work is licensed under a Creative Commons Attribution-ShareAlike 4.0 International License.