EFEKTIVITAS SUPLEMENTASI KALSIUM DAN ASAM FOLAT DALAM MENCEGAH PRE EKLAMPSIA : Literature Review
THE EFFECTIVENESS OF SUPLEMENTATION CALCIUM AND FOLIC ACID ON PREVENTING PRE ECLAMPSIA : Literature Review
Keywords:
Asam Folat, Kalsium, Pre Eklampsia
Abstract
Hipertensi dalam kehamilan merupakan salah satu masalah kesehatan penyumbang angka mortalitas dan morbiditas tinggi pada ibu hamil. hipertensi kronis tidak ditangani dengan baik, ibu hamil dapat mengalami preeklamsia. Salah satu cara dalam mengatasi komplikasi dalam kehamilan adalah dengan pencegahan pre eklampsia. Faktor Mineral dan gizi memainkan peran sebagai salah satu etiologi prediksi hipertensi dalam kehamilan. Intake kalsium dan asam folat pada kehamilan berperan dalam patogenesis preeklamsia. Tujuan dari penelitian ini untuk mengetahui efektivitas suplementasi kalsium dan asam folat dalam mencegah pre eklampsia. Metode yang digunakan dalam studi ini adalah metadata analisis dengan menggunakan tinjauan  literature (literature view). Sumber tinjauan menggunakan media elektronik dari beberapa database antara lain Pubmed, Sience Direct dan Google Shcolar yang dipublishkan kurun waktu tahun 2013 sampai tahun 2021. Artikel yang ditemukan dan memenuhi kriteria sebanyak 12 jurnal yang terdiri dari 5 Jurnal Internasional dan 7 Jurnal Nasional. Kesimpulan dari literature review adalah Suplementasi kalsium dan asam folat efektif dalam mencegah pre eklampsia.
Downloads
Download data is not yet available.
References
Alam, D. K., & Rina, E. (2016). Warning! ibu hamil:kenali penyakit & gangguan yang biasa terjadi pada ibu hamil. Ziyad Visi Media.
Andriani, D., & Rusnoto, R. (2019). Hubungan Antara Paritas, Riwayat Kehamilan,Dan Asupan Kalsium Dengan Kejadian Pre Eklampsia Berat. Jurnal Ilmu Keperawatan Dan Kebidanan, 10(2), 358.
Assontsa Kafack, C., Essiben, F., Tumasang, F., Meka Esther, J., Tongo Sedrick, F., & Mbu Robinson, E. (2019). Comparative effect of calcium supplementation on the incidence of pre-eclampsia and eclampsia among primigravid women. Clinical Journal of Obstetrics and Gynecology, 2(2), 145–149.
Bingan, E. C. S. (2019). Pengaruh Pemberian Kalsium Terhadap Tekanan Darah Pada Ibu Hamil Dengan Hipertensi. JIDAN (Jurnal Ilmiah Bidan), 6(1), 17–24.
Camargo, E. B., Moraes, L. F. S., Souza, C. M., Akutsu, R., Barreto, J. M., da Silva, E. M. K., Betrán, A. P., & Torloni, M. R. (2013). Survey of calcium supplementation to prevent preeclampsia: The gap between evidence and practice in Brazil. BMC Pregnancy and Childbirth, 13.
Dahniarti, D., Idris, I., & Am, N. (2018). Pengaruh Kepatuhan Suplementasi Tablet Kalsium Modifikasi Terhadap Kadar Kalsium dan Tekanan Darah Pada Ibu Hamil The Effect Of Compliance Calcium Supplementation modification Tablet On Calcium and Blood Pressure In Pregnant Women. Jurnal Studi Keislaman Dan Ilmu Pendidikan, 6(1), 19–33.
Dwikanthi, R.?;., & Islami. (2015). Hubungan antara Kompetensi (Pengetahuan, Sikap, dan Keterampilan) Bidan terhadap Ketepatan Rujukan pada Kasus Preeklamsia di Kabupaten Karawang. Jurnal Ilmu Keperawatan, 6(2), 46–56.
Hofmeyr, G. J., Lawrie, T. A., Atallah, Á. N., Duley, L., & Torloni, M. R. (2018). Calcium supplementation during pregnancy for preventing hypertensive disorders and related problems. Cochrane Database of Systematic Reviews, 6.
Imdad, A., Jabeen, A., & Bhutta, Z. A. (2012). Role of calcium supplementation during pregnancy in reducing risk of developing gestational hypertensive disorders: A meta-analysis of studies from developing countries. BMC Public Health, 11(SUPPL. 3).
Kemenkes. (2018). Profil Kesehatan Indonesia Tahun 2017.
Khaing, W., Vallibhakara, S. A. O., Tantrakul, V., Vallibhakara, O., Rattanasiri, S., McEvoy, M., Attia, J., & Thakkinstian, A. (2017). Calcium and vitamin D supplementation for prevention of preeclampsia: A systematic review and network meta-analysis. Nutrients, 9(10), 1–23.
Lestari, L. I. (2019). Effects of Folic Acid Intake on Preeclampsia. Jurnal Ilmiah Kesehatan Sandi Husada, 10(2), 85–89. https://doi.org/10.35816/jiskh.v10i2.115
Leveno, K. J., Spong, C. Y., Dashe, J. S., Casey, B. M., Hoffman, B. L., Cunningham, F. G., & Bloom, S. L. (2018). Williams Obstetrics, 25th Edition. McGraw-Hill Education.
Li, Q., Xu, S., Chen, X., Zhang, X., Li, X., Lin, L., Gao, D., Wu, M., Yang, S., Cao, X., Tan, T., Hu, W., Guo, J., Huang, L., Chen, R., Zhou, X., Cui, W., Xiong, T., Gao, Q., … Yang, N. (2020). Folic Acid Supplement Use and Increased Risk of Gestational Hypertension. Hypertension, 76(1), 150–156.
Liu, C., Liu, C., Wang, Q., & Zhang, Z. (2018). Supplementation of folic acid in pregnancy and the risk of preeclampsia and gestational hypertension: a meta-analysis. Archives of Gynecology and Obstetrics, 298(4), 697–704.
Lumentut, A. M., & Tendean, H. M. M. (2021). Luaran Maternal dan Perinatal pada Preeklampsia Berat dan Eklampsia. Jurnal Biomedik (Jbm), 13(1), 18.
Marwidah. (2017). Pemberian Suplemen Kalsium Pada Ibu Hamil Trimester I dan II dalam Pengaturan Tekanan Darah di Kabupaten Bulukumba.
Meldawati, M. (2020). Pengaruh Pemberian Kalsium Terhadap Penurunan Tekanan Darah Ibu Hamil Dengan Riwayat Preeklampsi. Dinamika Kesehatan: Jurnal Kebidanan Dan Keperawatan, 11(1), 195–202.
Mulya, F. M., & Bahar, H. (2014). Hubungan Asupan Suplemen Kalsium Pada Ibu Hamil Dengan Panjang Bayi Saat Lahir Di Wilayah Cengkareng. Nutrire Diaita, 6(2), 81–98.
Nuha, P. U. (2018). Hubungan Asupan Asam Folat Selama Kehamilan Dengan Kejadian Preeklampsia Pada Ibu Hamil Di Puskesmas Sidotopo Wetan Kota Surabaya. Universitas Airlangga.
Sutrisminah, E. N. (2012). Impact Folic Acid Deficiency on Pregnant Women With. Jurnal Ilmiah Kesehatan Sandi Husada, 10, 1–13.
Wen, S. W., Champagne, J., Rennicks White, R., Coyle, D., Fraser, W., Smith, G., Fergusson, D., & Walker, M. C. (2019). Effect of folic acid supplementation in pregnancy on preeclampsia: The folic acid clinical trial study. Journal of Pregnancy, 2019.
Widiastuti, R. O., Rodiani, Wulan, D., & Sari, R. D. P. (2020). Hubungan Konsumsi Suplemen Kalsium yang Kurang Selama Kehamilan Sebagai Risiko Kejadian Preeklampsia di Rumah Sakit Umum Daerah (RSUD) Kota Agung Kabupaten Tanggamus. Skripsi Universitas Lampung, 10(April), 178.
Widiastuti, R. O., Wijaya, S. M., & Graharti, R. (2018). Suplementasi Kalsium selama Kehamilan sebagai Pencegahan Kejadian Preeklampsia. JUKE: Jurnal Kedokteran, 7(3), 207–210.
Yusuf, A. (2015). Pengaruh Asupan Asam Folat Serum Maternal terhadap Kejadian Preeklampsia Berat Amri. Jurnal Agromed Unila, 2(3), 272–277.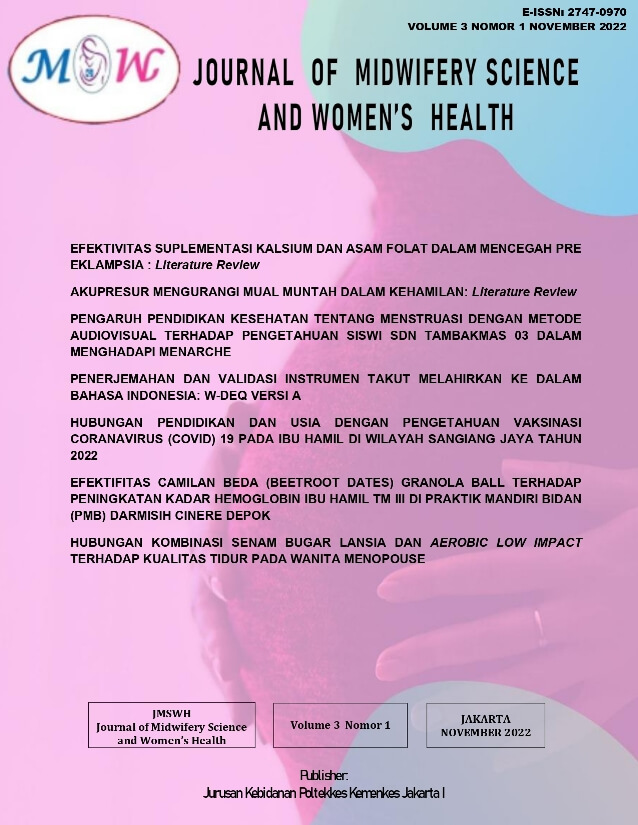 How to Cite
Tiara Deka, I., Nur Cahya, S., & Viona Alhida, S. (2022). EFEKTIVITAS SUPLEMENTASI KALSIUM DAN ASAM FOLAT DALAM MENCEGAH PRE EKLAMPSIA : Literature Review: THE EFFECTIVENESS OF SUPLEMENTATION CALCIUM AND FOLIC ACID ON PREVENTING PRE ECLAMPSIA : Literature Review . Journal of Midwifery Science and Women's Health, 3(1), 1–7. https://doi.org/10.36082/jmswh.v3i1.564